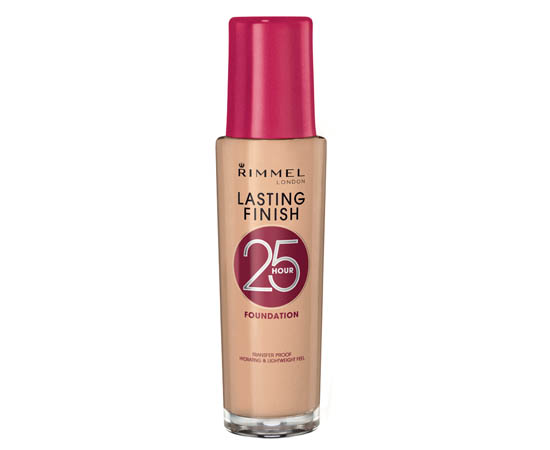 It promised Big Things, did the new Rimmel Lasting Finish 25 Hour Foundation, like transfer-proof (not just resistant, mind) flawless coverage, stay-true colour, 25 hours perfect wear, shine control, and the ability to keep skin feeling hydrated. There was obviously no way I could let awesome claims like that go without giving the product in question a whirl untested - sure if they were true, it would make it my perfect foundation 4EVA.
First impressions were good: I liked the bottle and pump dispenser set up and while the foundation is fragranced, it's a very slight cucumber-y smell that was inoffensive to my nose and dissipated quickly. The texture of the foundation was seriously thick on the back of my hand and the lightest shade (103: True Ivory) looked like it was too dark for me, but it actually blended on to my face well with my MAC 187 and didn't look thick or caked on or too dark.
I did find Lasting Finish to be a bit, well, sticky to the touch on application, and I noticed a large number of fibres from my brush wound up on my face because of that.
Coverage was on the full side of medium, and it did a damn fine job of disguising redness and blemishes and discolouration (oh my!) even though I hadn't used concealer underneath it, without feeling heavy. (Well, it felt about the same as my DoubleWear Light). The finish was decidedly matte.
Advertised
I put it through its paces by working a long walk in the freezing cold and dinner and drinks and a night at the theatre into my schedule - the things I go through for you lot, eh? - and it performed reasonably well. There were a couple of noteable issues.
My biggest gripe was that my dehydrated forehead definitely looked a bit parched by the end of the night/following morning; not ideal for a foundation that promises to keep skin feeling "wonderfully hydrated" by way of "moisturising aqua primers". And while it's definitely long-lasting, looking pretty much freshly applied the morning after, hints that its "transfer-proof" claim wasn't entirely accurate were in evidence on my pillow.
For the price, though, I felt that Lasting Finish performed well and would use it again.