 Some brands are a godsend at Christmas. They produce lovely gift sets that are not only a quick and easy purchase but are genuinely welcomed by the presentee (as opposed to the opinion-dividing extremely expensive scented candle).
L'Occitane is one such brand, with nicely packaged gift sets that contain products you'd actually want to use, not just random smellies you'll leave to gather mould in the bathroom cupboard.
This year, there's a broad selection of ready to go gift-packed goodies, from Luxury Gifts and Christmas Classics to Stocking Fillers and some for the fellas. Prices starting at €18 and going up to (€143) for the Big Daddy collection of Divine Skincare lotions and potions.

There's great value here too, with significant savings on many of the sets. The Immortelle Skincare collection costs €86 but it's worth €115 and for the gents, the L'Occitan Collection is €59 but is worth €96.
At the top of the pile is the aforementioned Divine Skincare Collection, which contains a 50ml Divine Lotion, 15ml Divine Eyes, 150ml Immortelle Precious Cleansing Foam and a 50ml Divine Cream. L'Occitane's Divine cream has won loads of awards and is a good choice for mature skin. 
For me, any L'Occitane pick is going to have to heavily involve the Shea Butter range, which took a prize in our Best in Beautie Awards. The hand cream is amazing and all the products smell gorgeous. The Shea Butter Collection for Christmas is €54 (worth €77.50)and is packed with treats: 300ml Ultra Rich Hand & Body Wash, 100g Extra-Gentle Soap, 75ml Hand Cream, 75ml Foot Cream and 100ml Ultra Rich Body Cream.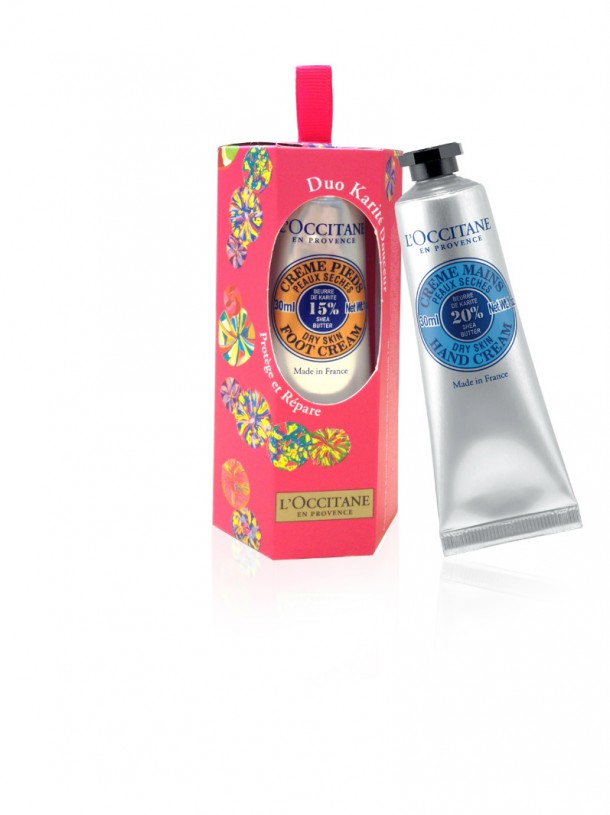 A lovely budget option is the Shea Butter Hands & Feet duo, with a 30ml Hand Cream and 30ml Foot Cream for a mere €21.)
Advertised
There are 16 sets in total, which also include a pretty trip of fragrances (three 7.5ml Eau de Toilettes from the Grasse range).
And if you just can't decide on your favourites, or you love everything, there's the Best of L'Occitane set (€77, worth €112.50) which has 100ml Lavender Foaming Bath, 250ml Cherry Blossom Shower Gel 20ml Verbena EdeT, 250ml Almond Shower Oil, 75ml Shea Butter Hand Cream, 30ml Shea Butter Foot Cream and 100ml Shea Butter Ultra Rich Body Cream.
Finally, the boys are not left out and there are four collections this year: a trio of soaps (€21) Luxury Shaving Collection (for €241), a Cedre & Oranger Collection (€65.50) and a delicious L'Occitane Collection (for €59).
Advertised
Is there anything here that is catching your eye? Do you love an aul gift set or who you rather just pick the products that you really need? To the comments!