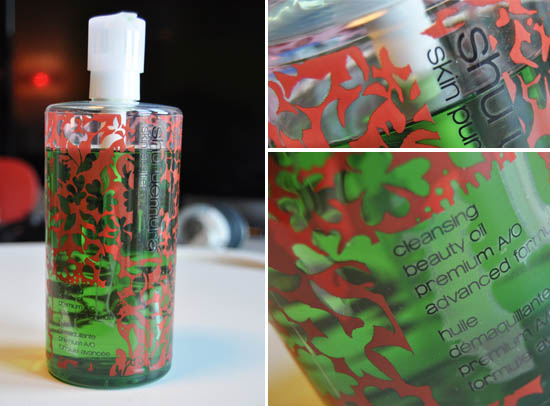 If you've been reading Beaut.ie for any length of time you'll know we're pretty much all fans of oil and balm cleansing over any other formulation. I've been a devotee of Shu Uemura's excellent cleansing oils for years and regularly go back to them when I'm out of any other I've tried and am in a country that stocks the brand. Yes, the word is that it is coming back here - and apparently it will be this year. Yes, I know that's what we were told last year and the year before that. Oh, we live in hope.
When I was in London for the No7 spring/summer launch, I popped into Liberty en route back to Heathrow for a bit of a browse, and naturally enough gravitated straight to the Shu Uemura counter.  At the end of yet another pot of Eve Lom, I decided to give my skin a change and go back to oil.
Where I've always used the basic High Performance Balancing Cleansing Oil before, this time the assistant (very helpful, it must be said), recommended I try something a little richer.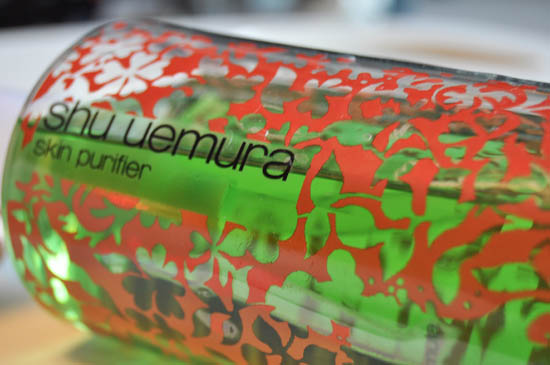 What he advised was that I go for the Cleansing Beauty Oil Premium A/O. This feels slightly thicker in texture than High Performance, and has a bit more slip. Designed to provide anti-oxidant and anti-ageing benefits, it's got green tea for combating environmental damage and squalane for moisture, amongst lots of other ingredients.
While it normally comes in a plain presentation like the regular bottles of oil cleanser, I got one of the limited editions the brand released a year or so ago - really, all this is is a sticker that doesn't adhere particularly well to the plastic bottle, but hey, it looks nice.
Advertised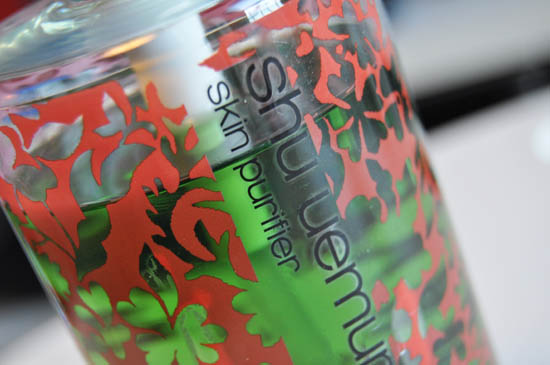 So, what's the gen with this, then? At £55STG for 450ml, this is not cheap at all. However, once you've tried an oil-based, emulsifying cleanser, I dare you to go back to any other method. Not only does this act as a skin cleanser, it's also a stellar makeup remover and it will literally clean your face of the most stubborn slap in seconds. You just don't need to buy any other products the way you do if you use a milk, gel or wipes.
Two-to-two pumps of green gloop is enough to cover your entire face; massage it in - you can use it to take off mascara - and watch makeup begin to immediately move and dissolve. Now add some warm water; the oil immediately transforms into a thin milk which you can wash off with a muslin or facecloth, taking the day with it.
Et Voila - a clean, soft face which is perfectly cleansed and calm. You don't need extra eye makeup remover, you don't need to tone, and your skin doesn't feel tight the way it can with gel cleansers and water.
Any downsides? Price, obviously, and lack of Irish availability - though you can now buy direct from ShuUemura.co.uk, which is great news. £55 is a lot to shell out too if you've never tried this, but I got the biggest size available: you can also buy this one in 100 and 150ml sizes, from £18. Mineral oil's the main ingredient here, so if you have sustainability worries or don't get along with it, then this won't be a goer for you.
As for me, I think my purchase will provide value for money. This stuff does not go down quickly and as you can see above, that's all I've used since mid-November. Now, I have been using other bits and bobs too in the interests of product testing, but this has also been getting very regular love.
Advertised
All in all, while it was an investment at the time thanks it costing the equivalent of about €66, I don't honestly think I'll be needing to buy another cleanser for at least another six months.