 If you, like us, are always on the lookout for new innovations in the beauty world, you will be quite aware of one of the latest trends - the silicone makeup blender.
The silicone makeup blender - which looks undeniably like an insert for your padded bra - has taken the internet by storm as it's the first "sponge" of its kind that doesn't absorb your precious expensive foundation.
But alas, like most new and exciting cosmetic products, they are only available online from the states and we all know what that means? Import tax. Your new product comes at a much heftier price than originally planned.
Advertised
However, You will be most happy to hear, the fabulous people at Catrice have just launched a fab silicone makeup blender of their own, for the fantastic price of €4.95.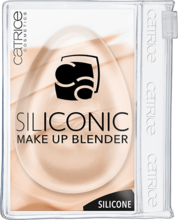 Catrice Siliconic Makeup Blender
Catrice is always so quick off the mark when it comes to relative product development at an extremely affordable price without compromising on quality. We're not even surprised that this is out so soon, joining loads more lovely new launches for autumn that we'll tell you about soon...
Along with not absorbing your precious makeup, what's brilliant about the silicone makeup blender is that it's so easy to clean. You just wipe it with a bit of warm water. Bonus: it's vegan. If this doesn't save you money in a whole load of ways, I don't know what will.