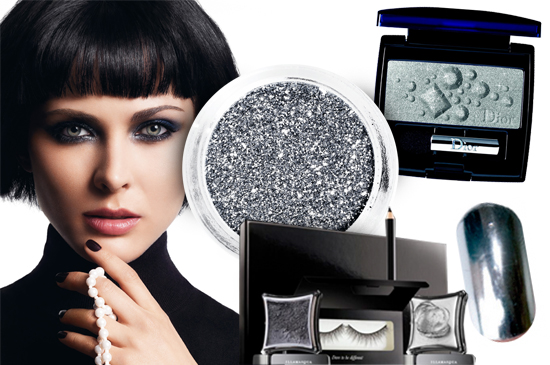 Yep, we've been braving the C word for quite a few weeks now, showcasing some of the nicest of the seasonal launches and that means you know what's next: party season, or, as it's been re-monikered in recent years, cocktail season. I totally prefer that name to be honest (mmmm, cocktails), and anyway, who - outside of meeja-fabulous style people -  even has a 'party season'?
That said, I'm betting you've all got at least one or two big nights out coming up over the next month or so and that's the inspiration behind our new category, Going Out. It's going to be packed full of the blingiest of bling, glitter and metallic goodies we know you love when you're out and about. We know this, because so do we!
Kicking us off today is some silver-spiration: I do like a bit of glitter and shimmer around Christmas time, so here's what I'd like to get my paws on, clockwise from top right. Dior's Cristal Boréal eyeshadow in 012 Silver Gem, €30, is faaaahhhhbbbbulous.  I swatched this in Brown Thomas during the week and it's incredibly pretty. Below it is my new obsession, Minx. A set of ten silver-adorned digits will cost you about €30 - I got nearly two weeks out of mine, so it's well worth it, I reckon.
Advertised
Next up is a great gift set from Illamasqua, the Silver Seductress Box, €52. For that you get one of the amazingly-pigmented Liquid Metals in Phenomena, a charcoal glitter Pure Pigment in Android, false eyelashes in 019 and the brand's Sophie Pencil. Psst: buying the lot together saves you a good few quid, by the way.
Last up we have a pot of glittery goodness from Sothys Paris. Stardust is €26 and you will never, ever use it all up, so worth the initial outlay.
Whaddya reckon? Feeling inspired? Rate your fave silvers in the comments, too.