 What do Helen Mirren, Susan Sarandon and Julianne Moore all have in common?  They're all looking better and better as they age.  And while most of us can't hope to replicate their looks unforch,  there is one thing we can do to keep our skin looking firmer and fresher - and that's to use a serum.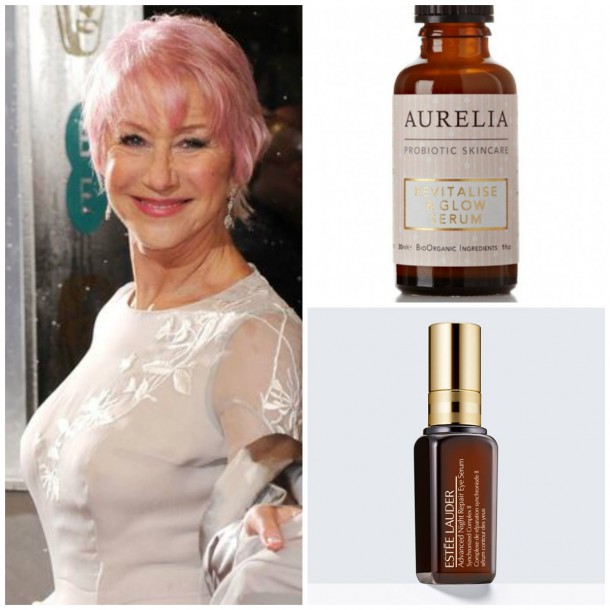 I love serums.  I love them more than anything.  More than eyeliner, more than Tangle Twisters, more than... well no, not more than cats, but you get my drift.  Think of a serum as all the best ingredients from your favourite moisturiser all crammed into one little bottle.  And although those little bottles may be expensive they will last ages and really enhance your skincare routine.
So I've been trying out a couple (or six) for your delectation today.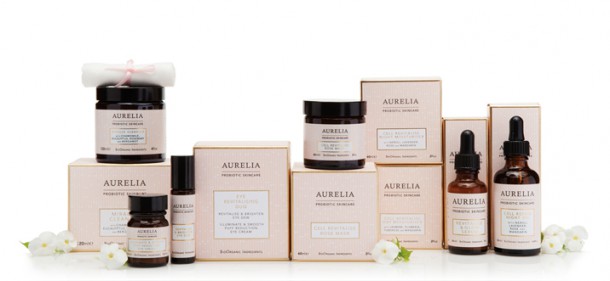 Aurelia Revitalise & Glow Serum
Aurelia are an extremely green and clean skincare brand - they don't test on animals and their skincare is free from *takes deep breath* synthetic fragrances; silicones, parabens, mineral oil; sulphates; propylene glycol and a host of other chemical ingredients.
With 100% BioOrganic ingredients this serum is full of antioxidants, Omegas and pure botanicals and is very light and refreshing, providing a quick shot of hydration.  The only problem is... it reeks.  The smell of  the botanicals is very, very strong - Jasmine, Tuberose Plumeria and Mandarin combine to produce a scent that is eyewatering.  I always have a problem with these highly scented natural products, but please don't write off the brand because the fragrance put me off - if you love natural you'll like this.
If you're on the hunt for a new natural brand to check out, then give Aurelia a try, the range is available from SpaceNK and it's highly rated by many skincare experts.  I'm trying their cleansing balm next and really looking forward to that.
Advertised
 Kiehl's Dermatologist Solutions Hydro Plumping Re Texturizing Serum Concentrate (€49, available from September)
Now this is kind of an odd product from Kiehl's.  If the Aurelia serum contained no silicones, this one seems to be composed almost entirely of them.  Glycerin is the largest ingredient and I can count four different types of silicone in the ingredients list.
So what's going on?  To me it seems more akin to a primer (like Smashbox Photo Finish for example) than a traditional serum.  I normally fall into a swoon when I try a new Kiehl's product, but this one has left me a little confuzzled.  Using it as a primer might be the way to go here as it definitely smooths and hydrates and makes foundation glide over dry and dehydrated skin.
This fella is marketed as an alternative to Botox due to its high concentration of super effective peptides which can act as "fillers".  While nothing except Botox is an alternative to the real thing, this serum is pretty good indeed.  It smooths out the look of wrinkles, is light, easily absorbed and is suitable for both day and night use under moisturiser.  Plus it works REALLY well on the backs of hands - give it a go.  It actually reminds me a lot of a serum by Crystal Clear that I loved years ago.  If you're in the market for a new high potency serum try this out.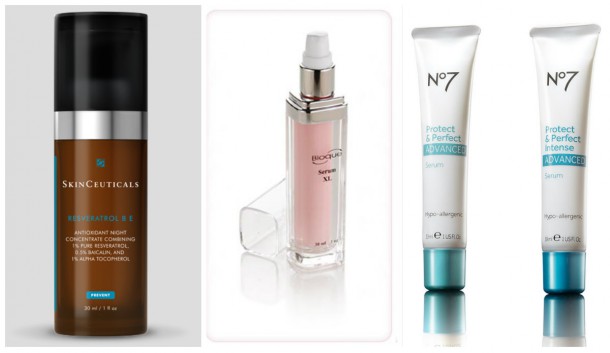 I'm also loving
Skinceuticals Resveratrol BE  (€140) (seriously, are Skinceuticals even capable of making a non incredible product?)  Expensive I know, but blaady brilliant.
the new Estee Lauder Advanced Night Repair Eye Serum  (€56) (seriously, every time you think this orange gloop can't possibly get any better it DOES).
 No7 Protect and Perfect Advanced (€30.50) is also a really good bet.  Two new serums in the range have built on past innovations to become even more powerful.
For more antiageing magic, including some of the products Helen Mirren loves, check out Beauty Call in the Irish Times today.
Advertised
And now  it's over to you.  Do you use serum - and if so which one (s) do you rate?