 Never let it be said that we're not interested in healthy skin here at beaut.ie. We are known for our freakish adherence to skincare routines and we're always first to go in search of the latest skincare. And if I didn't have a semi-permanent craving for bacon sandwiches, I would eat better for my skin.
We love skincare from affordable to luxury, but we don't mess about when it comes to SPF. Both premature aging and the risk of melanoma are enough to keep us slathered in it all summer long. After all, premature wrinkles are only cute on puppies and, on a more serious note, nobody wants to have to tackle the horror of skin cancer. A good SPF will help you to avoid both.
Here are some high protection SPFs to keep on your radar if you're travelling to sunny climates this summer, and some lower protection SPFs to keep in the cabinet to tackle a (hopefully not) grim Irish summer.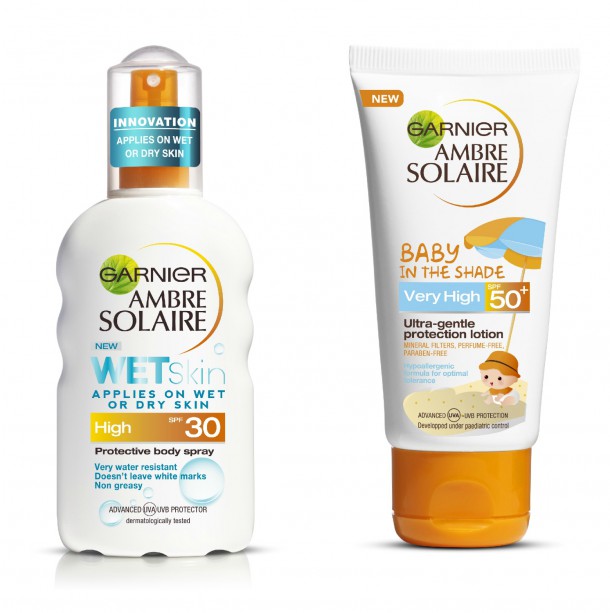 Garnier Ambre Solaire Baby in the Shade SPF 50+(€21.99) & Garnier Ambre Solaire Wet Skin (€10.79)
Okay. So I don't have any babies (that I know of...), but this is a very welcome addition to my SPF arsenal. If you have a super-fair Irish complexion like me, you'll need to treat your skin as you would a baby's. It's also very important to note that babies do need sun protection, even if you're doing the conscientious thing and keeping them in the shade. Their thinner skin, lower melanin levels and immobility make them very vulnerable to sun damage, even  in the shade. This SPF is extra sensitive for really delicate skin.
With little people, it's always better to be safe than sorry and protect their young skin, particularly in direct summer sun. Always use a high protection SPF of at least 50, and ensure that it contains protection from both UVA and UVB rays.
For those who are active and love the water, a waterproof SPF is essential. This wet skin offer from Garnier can be applied directly to wet skin, and is waterproof. It comes in factors ten, twenty and thirty, so you can tailor your SPF to the climate you find yourself in!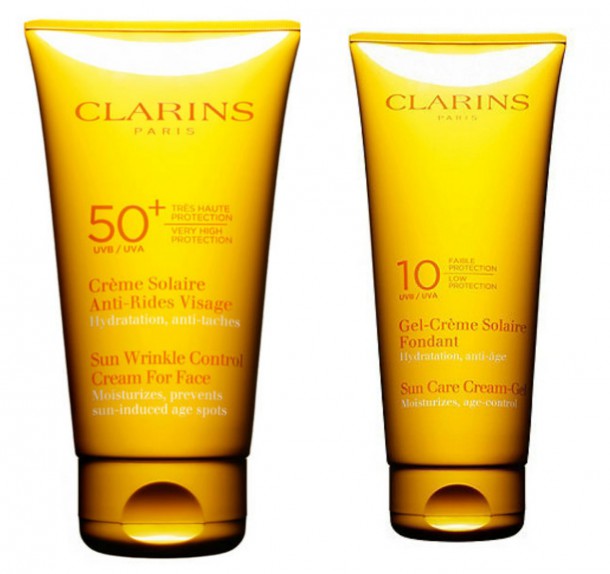 Advertised
Clarins Sun Care Smoothing Cream-Gel Low Protection UVB 10 (€26.50) & Clarins Sun Wrinkle Control Cream for Face Very High Protection 50 +(€26) 
This lightweight cream gel from Clarins is a great option for everyday protection on cloudy days. If you have a naturally sallow or dark complexion, you can get away with lower protection on dull summer days. Just remember that a higher Factor won't keep you from tanning if your skin is sallow. Protection is very important!
For those who like a higher end facial SPF, this wrinkle control cream from Clarins is the business. Never take chances with your face; apply the highest protection you can get when spending time in serious sun. This cream has a lovely consistency, feels moisturising (which is rare with an SPF) and won't ball up under foundation. Win win!
Avene Very High Protection Emulsion SPF 50+ (€20) &  Eau Thermale Avene Very High Protection Spray SPF 50+ (€30)
Avene have made this range particularly for very fair and sensitive (i.e. Irish!) skin. If you're the type who burns like a rasher on the pavement within ten minutes of sun exposure, this high protection emulsion will protect you. I like to use this one on my face - it doesn't interfere with makeup and works well with oily skin. You won't be shiny within minutes of application.
This is that rare and lovely product - an SPF that does not interfere with or degrade your makeup. It also doesn't feel heavy on the skin. I've been wearing it on my ghostly visage in the sunny weather for the last couple of weeks. It's also a must for children or pale folks on sun holidays.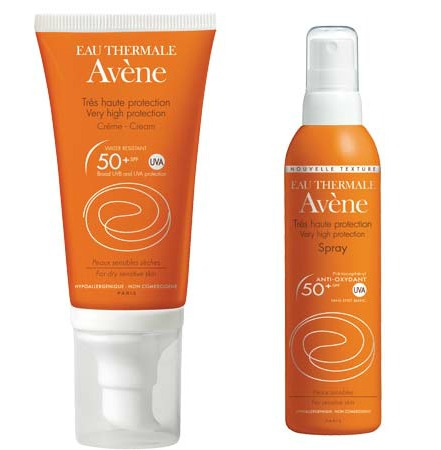 The High Protection Spray from this range is lovely. Just spray into your hand an apply liberally to the body. In strong sun (even 'strong' Irish sun) I burn within fifteen minutes. This SPF protected me through a two-hour walk by the sea in full sun. I was delighted by how effective it is!
Advertised
Don't forget that even the best facial SPFs can cause breakouts if not removed properly, so always double-cleanse before bed to remove all traces.
How are you on SPF? Will you be taking one of these on your holliers? Let us know in the comments!