 I think of myself as the bouncer of my bathroom cabinet. When it comes to skincare products gaining access to said cabinet, I reserve the right to refuse admission.  The Phyt's range with its certified organic credentials and 95% pure active ingredients resulting in good skin behaviour gets sent straight through to the roped off VIP section with a complimentary glass of Crystal
PHYT's is one of my favourite skincare brands yet it seems to often fly below the beauty radar. The products are not cheap but this French company promises chemical-free, nasties-free, animal testing-free products. So far so Jacques Cousteau. But is it any good? Mais oui!

I have been using the Phyt's hydrating range for the last two months. The micellaire water (€26, 200ml) gently cleanses and tones, while the elixir (€64, 30ml) doubles as both a serum and an eye moisturiser . Over the serum I use the daily hydrating cream (€46, 40g) which boosts hydration with vegetable based hyaluronic acid (derived from corn and wheat), while the jojoba and macadamia oils do their thing to protect and regenerate.
Normal to dry skins that are prone to the odd blemish will drink up this hydrating range like an office worker at 5pm in Kehoes.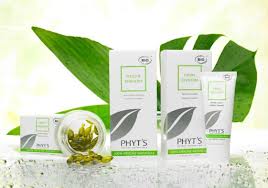 Advertised
I like to ramp up the night care routine with some hard workin' oils. Enter Reviderm capsules. These little bad boys are suitable for all skin types. I use half a capsule at night and I will admit that it smells like I have popped some mulched plants onto my face. The mulch-scented goodness soaks right in and has definitely helped my forehead lines and overall complexion. (€61 for 40 capsules)
One other product that I really rate is their Naturoderm (€16, 15ml). Dab a little on a blemish and this natural antiseptic green hero will reduce healing time.
Have you tried this brand? Or if non, are you tempted to give PHYT's a go?
All Irish stockists are listed here: www.phytsireland.ie/stockists.html
Andrea Kissane