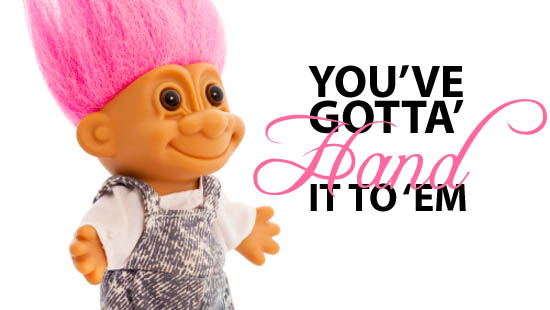 Handjobs. Rife at teenage discos and in the sex industry, and, you might be surprised to hear, the beauty biz too. Let me explain: I go to quite a lot of launches for new skincare products and I'm always interested to hear the latest scientific innovation behind a product so I can tell you all about it.
Sometimes, the discovery of a new, whizzbang ingredient occurs because of a simple toothless and crabbed, Rumplestiltskin-alike fish farm or factory worker who is hideous in all senses of the word - EXCEPT - and this is the vitally important thing - EXCEPT - for his stunningly beautiful Snow White-alike hands of smooth, blemish-free delight.
"Bingo" thinks capitalist moisturiser maker (kept thinking Rupert Campbell Black in tight riding breeches here, for some reason) who strides into the factory, whisks Rumplestiltskin off for some tests and ascertains that it's the ingredients he's working with all day long which have his hands looking so utterly fabulous.
The hand job first came to light when the craze for Snail Gel started. "Chilean Snail Workers In Smooth Hands Shocker," trumpeted the press release, and I can't count the number of times I've heard it since. Last week I went to not one but two presentations in which lamhs were revealed as amazing barometers of what the particular active ingredient in the product under test could do.
First Aisling and I went to meet the founder of Skin Science, a Norwegian cosmecuetical brand that's just launched at Harvey Nichols, Dundrum. Using marine extracts and some interesting-sounding ingredients which come from salmon roe, the brand's founder explained how they had discovered the amazing properties of salmon roe eggs. "The factory workers who were working with the eggs," he explained to us, "had amazingly soft ..." he didn't get to finish.  "Hands!" I piped up.  "Yes," he said, "how did you know?"
Advertised
Beauty battle-scarred and cynical, me.
The second hand job of the week was at the launch of Aveeno's forthcoming Positively Radiant range, which hits shelves soon and is an interesting skin-brightening prospect at an affordable price as it uses soy as the active ingredient. We were told that only unprocessed soy is suitable for use as it's what does the actual work on the skin. But how, how on earth did they find this out? I could see this one coming a light year away.
Yeah.
Hands.
As it happens, both launches are very definitely of Beaut.ieful note and we'll be telling you more about them both soon. We just might leave the handjobs out of it though.