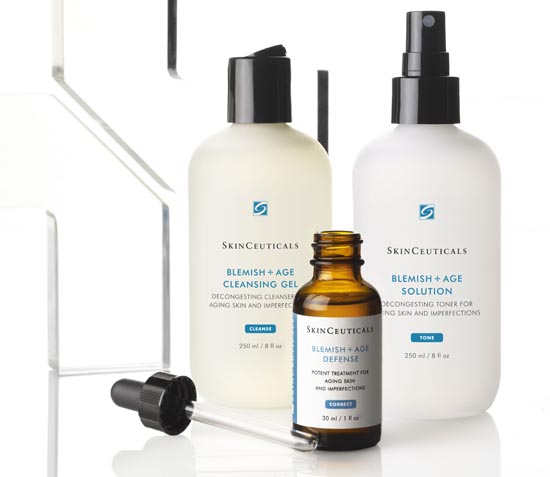 While Skinceuticals has quietly been available in Ireland for the past three years or so, it took until last week for it to officially launch. Well, it's an unassuming kinda brand and one you might not have realised was a part of the L'Oreal stable. Where previously I'd always heard Vichy was the R&D powerhouse in the group, it seems Skinceuticals is actually the leading light for development and as the "antioxidant authority," the brand is responsible for a lot of the ideas, developments and clinical tests and trials that feed off into other companies in the group.
In Ireland we're well used to science-led skincare from Vichy and La Roche-Posay and L'Oreal as a group really does hold its own for value-for-money products that are well tested and trialled. This is a different prospect again. As an almost medical-grade range it's never going to be in 800 pharmacies nationwide like the brands just mentioned.  It's really only selected clinics and salons which will carry these products because it takes trained hands and expert knowledge to wield them.
For a skincare nerd, the fact the brand had brought over star facialist Una Brennan to talk about the range was pretty exciting. Lauded by the UK glossies, this Northern Ireland native's hands have massaged the complexions of Laura Bailey and Sienna Miller and she's acknowledged by beauty editors as Really Honestly One Of The Very Best. And oh boy, isn't that nice to hear about a Norn Iron gal done good?  Hearing Una talk about the Skinceuticals range - which she discovered after winning a competition - and how it has transformed her clients skin, was a good endorsement.
And while there are a lot of convincing, solid-sounding products in the range like Phloretin CF, AOX Eye Gel and Sheer Mineral UV Defense SPF 50, there is one product offering that jumped out at me because it's something so many brands are steadfastly ignoring with a "la la la la can't hear you" approach. I'm talking, of course, about the thorny double issue of ageing skin that's breaking out, and breaking out badly.
Vichy sought to do something about it in the mass market recently with Normaderm Anti-age but this is one I think a lot of you will want to take a look at as it's much more targeted. Skinceuticals' Blemish and Age range and the accompanying in-salon facials are aimed squarely at the needs of adults who are battling hormonal acne outbreaks along with the side-effects of the ageing process. And really, that's anyone who's over 30 and distressed at a suddenly spotty complexion.
Why is it happening, I asked Una. "There are loads of reasons," she explained. "There's been a massive rise in cases of polycystic ovaries, working crazy hours plays havoc with hormones, sleeping is so important for skin health and even using the wrong products can cause it." She says that if your issue is caused by just using the incorrect skincare, then you're easily sorted, but otherwise she's very impressed with Blemish and Age.
Advertised
The suite is small: Blemish and Age Cleanser is €34, which contains exfoliating acids and non-drying cleansing agents to remove impurities and excess oils. It's designed to target blemishes and photo-ageing.  Toners are not something I'd normally use nor recommend, but this line has one: the Blemish and Age Solution, €31.50, is a bit more than your average offering as it contains acids to resurface skin and de-congest pores.
The star of the show here is the Blemish and Age Defense product, €88. It's where the real anti-ageing comes in. The brand says that where blemishes meet ageing meet sun damage, the effect of the damage on skin is magnified because you've got other issues at play like hormone fluctuations to complicate matters.
So this product is targeted, oil-free and is applied post-cleansing to treat the acne issue but to also address the ageing problem.  Containing a 2% dioic acid blend, with alpha- and beta-hydroxy acid formulation, glycolic and salicylic acids, it's designed to prevent the formation of new spots but also minimise hyperpigmentation and reduce the appearance of lines and wrinkles.
Ideally, you'd have a course of facial treatments (which range in price from around €80-to-€100 depending on location) and your treatment schedule would be set for you at the clinic, where you'd be able to purchase the products you'd use at home for aftercare.
The facial is relatively new to the range and while we've no feedback yet on it, I know so many of you are frustrated about this black hole in skincare. Do you think it's something you'll investigate?
CURRENT LOCATIONS:
Advertised
Nuala Wolfe, Serenity Day Spa & Clinic, Sandycove, Co Dublin
The Laser & Skin Clinic, Dublin, Athlone and Mullingar
Cosmedics, Medical and Cosmetics clinic, Dublin 7
No8 Cosmetics & Dental Clinic, Limerick
Liberty Spa, Navan, Co Meath
Laserderm Clinic, Claregalway, Co Galway
Kool Skin Ltd, Dublin 2
Blackrock Clinic, Co Dublin
Angela Silke Medi Therapy Clinic, Galway
Kathryn Revell Cosmetics, Cork City
Laserderm Clinic, Loughrea, Co Galway