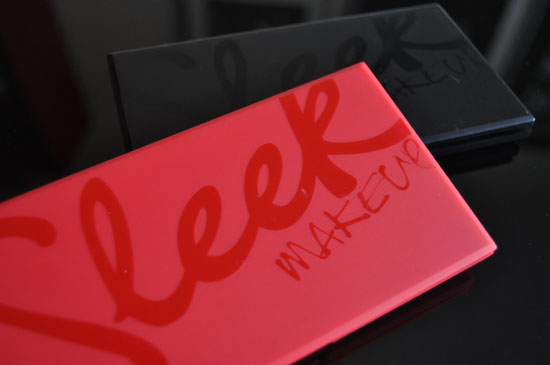 Lets begin with a recap on Sleek cosmetics, shall we? For those of you not in the know, Sleek is a brand that began as a line for women of colour, and is best known for its affordable shadow palettes. Characterised by great, highly-pigmented and colour-varied offerings that cost so little you're gasping at the price, I've had my eye on the brand for ages but of course, Sleek's not available in the Republic of Ireland. Sigh. Sold primarily through Superdrug in the UK, it's now finally available to us Irish ladies to buy online via the Sleek website, and for that I sing hosannas.
So of course I did buy online. Purely in the interests of research, natch.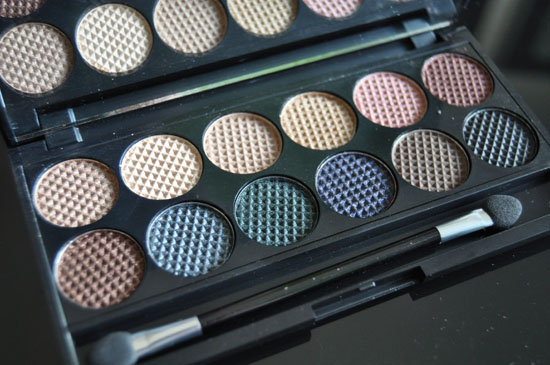 Given that their i-Divine palettes get so much love across the beauty blogosphere, I popped two into my basket: Storm, containing 12 very wearable neutrals from beige, brown, pale golds to copper, rose gold, burgundy plus a couple of night-time shades like a deep green, purple, metallic pewter and black. Textures are a mix of mattes and shimmer. Pans are smaller than your average Mac pot (God why must everything be compared to Mac? It drives me batty), the casing is nice and there's a big mirror in the lid. So, the damage?
€8.50.
Advertised
Yup. Imagine. EIGHT EURO AND FIDDY CENT for 12 good-quality shadows? It's no wonder Sleek never moved into the Irish market - we'd descend upon it like the ravening overcharged horde we are, and stampede it to death. Quality-wise, I've only been playing with this for a couple of days so can't do a full review yet, but pigmentation seems decent, the texture is smooth and the only downside I can see so far is that some of these shades are quite intensely shimmery.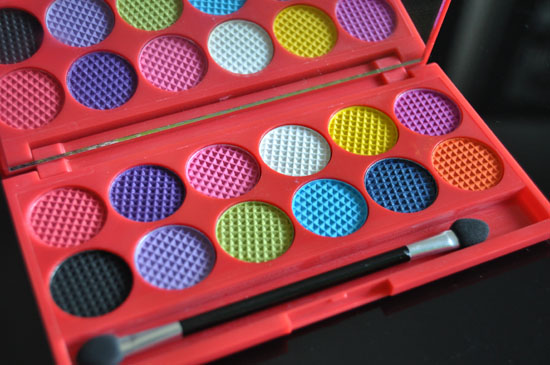 I also got the limited edition Circus i-Divine palette to have a gander at how the brand does brights. This is quite frankly brilliant for the price. Mostly mattes in this one with  a couple of shimmers, again this is €8.50.  You get 12 loud shades, which are pretty much all you'll ever need for those occasions when nothing but a chartreuse and red shadow mix will do. On such occasions, no one wants to pay €14 for a single shadow they know they'll use rarely: enter the Circus i-Divine.
Anyway, I suspect I will also use this palette rarely, but am glad I have it just in case I have to attend an impromptu fancy dress party. Quality, based on my swatching, seems a little variable - some shades are more intense than others. But teenagers will a-bloody-dore this; anyone who loves proper, impactful brights will love this, as will anyone with a magpie taste for screaming shades.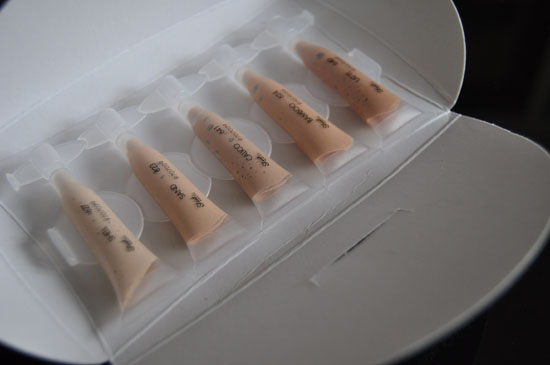 That's not all Sleek sells - it makes noise about the fact it's the only high-street brand to have 17 foundation shades on offer and so it also does small tester kits to allow you to try shades on for size before you commit to a full product. I got a Skin Revive Foundation Tester Kit in fair, above, containing five 2ml shades. The colossal cost of this item? €2. This is an ace idea that was no doubt inspired by mineral makeup companies, and more brands selling liquid foundations online should follow suit.
Advertised
I'll do some swatches next week, but now to the details: I placed my order on July 21st, it was dispatched on the 23rd, I got my well-wrapped and protected parcel on the 30th. That may not be representative of normal delivery times as my postman holds all my post (I get a lot of parcels!) and only lets me know it's there once a week or so.  Postage to Ireland costs €5.99.