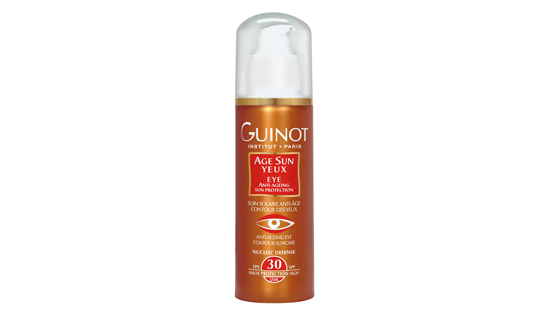 It's a problem as old as suncare itself (not very, so) but the conundrum of protecting your eyes from the ravages of UV rays can often be a task that's not easy to achieve. While ideally you should be protecting this skin as it's so thin and delicate, the reality is that a lot of products which contain an SPF actually irritate the eye area. I've binned a Decleor product that did just that, and when we discussed it recently, it seemed loads of you are searching for that elusive cream with sun protection. Gaaah.
What's a gal to do, eh? Wear huge glasses 24/7 is one option, but I actually did a little squeal when Guinot's new Age Sun Yeux (the word yeux always makes me channel Huckleberry Hound - yuck yuck) popped onto the mat. It's got an SPF of 30 - well done - and because it's Guinot, you know it's got millins of fabillis French science-type expertise behind it too. Even more well done.
Less well done is the price: €64.55. But if you work it out on a cost-per-wear basis (always the best way to justify any expensive purchase, I find), then I daresay you'll find that this is not bad value.  With 15ml in the dispenser, half a pump's worth ought to be more than enough for both eyes, and of course, you'll should only use this in the morning as a cream with UV filters won't be really needed when you're in bed, fast asleep under the duvet.
Advertised
So what else has it got apart from a high protection factor? Guinot's Longue Vie complex (of which I am a firm fan) plus horse chestnut extract to stimulate microcirculation (good for the puffy eyes) and something called glycalift which also helps to protect collagen and elastin fibres.
Cooling and non tear-inducing, this is one that's worth the investment.