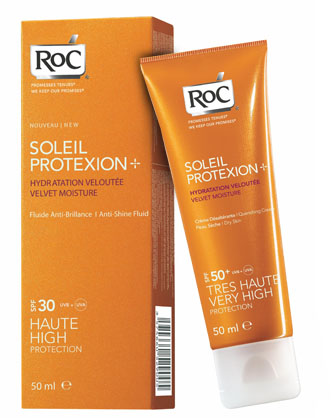 Yes! Even more sunscreen posts. Ah sure you have to put some praise where it's due, eh?
We've looked at the whole bother of what do to if chemical ingredients in sunscreens bother your skin, but that's not the end of the issues a lot of women have with the hows, whys and whats of SPF. Should you just go with one that's included in your regular daily moisturiser? Should you use your regular daily moisturiser and a separate product on top, and then your foundation? Um, isn't that quite a lot? And isn't it a holy pain in the arse, to boot?
I tend to go the route of all-in-spf-and-moisturiser in the winter, or let my foundation with SPF do the trick, but in the summer I will La Roche Posay Anthelios XL myself on top of my day cream, because I like the fact it's got a factor of 50  - and it's nigh-on impossible to find a moisturiser with such a high factor included.
Advertised
Except, RoC has just done it with the Soleil Protexion range. And they've done it very decent prices, too - all products are just €15.95, a great price for a moisturiser that combines a high-factor, broad-spectrum sunscreen. Basically, your summer protection worries combined with keeping your skin hydrated are addressed in one fell swoop.
Soleil Protexion contains five products, all with at least an SPF of 30, targeted across skintypes. Saharan skins can check out Quenching Cream for dry skin SPF 50+, normal/combo types are catered for with Quenching Cream for normal to combination skin SPF 50 +, and  oilier types can look to the Anti Shine Fluid SPF 30.  Sensitive complexious are also addressed with High Tolerance sunscreen for sensitive skin SPF 50+, and if pigmentation is an issue, the Anti-Brown Spots Cream SPF 50+, is the one for you.