 It's not an illusion - that is the sun you see! So, let's talk about SPF; more specifically, SPF for people who don't wear SPF
You and I wear an SPF obvs because we are woke to the perils of sunshine. But, believe it or not, some people absolutely hate it. They hate the hassle. They hate the smell. But most of all, according to a Garnier survey, they hate the feel. You know plenty of people who feel this way. If you love those people, introduce them to the new UV water transparent protecting spray.
It's a bona fide genius game (and potentially life) changing product. I discovered it at the launch last week, had a play and had to be assured a thousand times that it was real. It is. A lot of science and research and tests went into it - that's why there sadly isn't a factor 50 version - yet. The Ambre Solaire UV Water Transparent Protecting Spray is only available in Factors 20 and 30 - but Garnier is working on a higher strength for us blue-skinned types.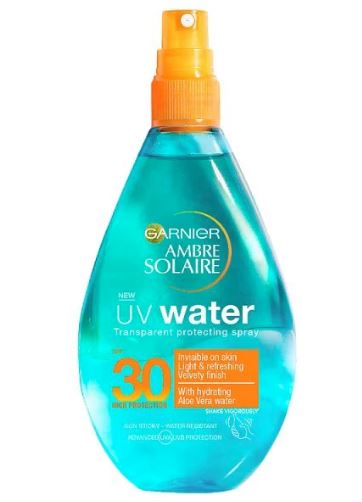 Ambre Solaire UV Water Clear Sun Cream Spray SPF 20 €19.99
Advertised
It looks and feels like water. The bottle says it's invisible on the skin - it is. It's light and refreshing - got that right (could it even replace thermal spray? Maybe!). It has a velvety finish - why, it does. It's hydrating, too.
Guys, this is the full package SPF. If you know anyone with an aversion, point them in this direction. The only thing is, it's not for the face. But, if you, or that person you know who doesn't use sunscreen, need something for above the neck, I would recommend the Ambre Solaire Sensitive Advanced Hydrating Face Sun Cream Mist SPF 50. I used it all last summer, over my makeup, and couldn't think higher of it. My friend was looking for something like this, so I told her about it, and she discovered it's on sale in Boots!