 Over the past few months my cleansing routine has become much, much, much better. I'm not proud of this but I'm going to stand up and announce that I was a makeup wipe user for ages. It was just so easy. Now I still use makeup wipes but only for cleaning my hands when I put my makeup on. (And for when foundation drops on my clothes. Which is often. Aggie from How Clean Is Your House says it works!)
Anyway, my new routine isn't perfect. I want a clean face but I don't want to spend hours doing it. That's why I use a micellar cleansing water from Garnier. After that I use a the Purity Made Simple cleanser from Philosophy and after that I make sure every last trace of makeup is gone-diddly-on with toner (I'm currently using Kiehl's Calendula Toner.) Sometimes I use a specific eye-makeup remover or *gasp* a wipe. But only sometimes.

L'Occitane Oil Make-Up Remover arrived on my desk this week and I was interested to give it a go. It sounds bloody wonderous. It claims to remove tricky and tough-to-shift makeup like waterproof mascara and all the other yukky bad stuff that builds up on your skin. It's from the Immortelle line and is enriched with essential oil (obvs) that has anti-ageing qualities. It is also supposed to smoothe out the skin after each use.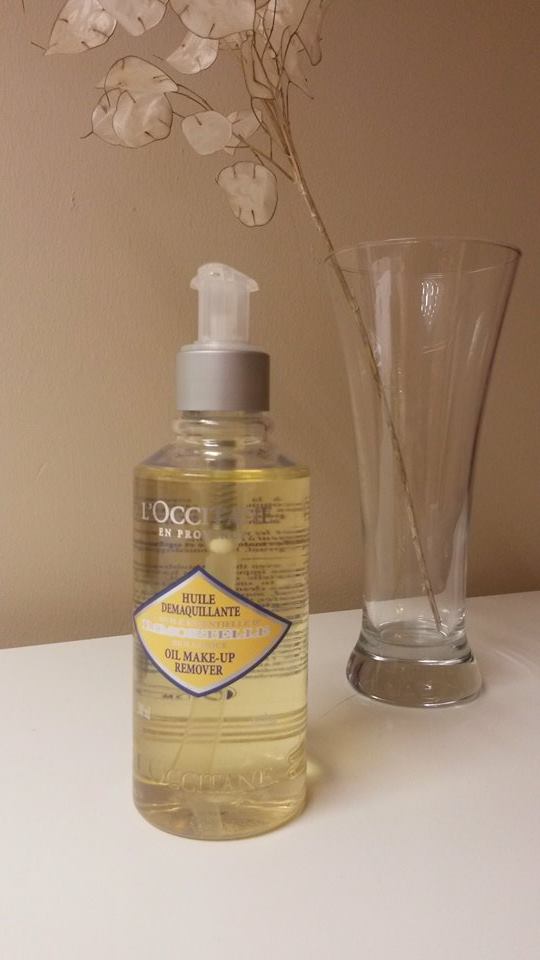 Now, I am so very wary of using anything oil based because I'm such a greaseball. However, it says on the bottle that it's ideal for all skin types so I give it a go.
The instructions tell me to use on dry skin. I'm to massage over my face, including the (closed) eye area and then work into a lather with a little water - I rubbed the oil lightly into my skin and then wet my fingers with warm water to create the lather. Finally, you just rinse it off.
Advertised
By God, it works! It's a bit of an odd sensation, especially when you're not used to using oils and even more especially when you're applying it directly on your makeup. It can be a bit messy, I like using cotton pads to remove makeup and when you're rinsing with water makeup stained water tends to get all over the sink. I would still use a toner to remover the very last traces but you might not need to if you don't wear layer upon layer of full coverage slap like I do.
I put some on my hand to take a photo for you but there's no point. It looks like oil. I don't think you need a visual! Anyway, when I went to wipe it off I was both horrified and delighted to see traces of makeup on the cotton wool I used. I had used a wipe on my hands and washed them. This oil really does works! It feels lovely too. My skin was soft and felt hydrated.
A 200ml bottle costs €26 and will be available in L'Occitane boutiques nationwide from 19th March 2015 (along with other new Immortelle products including BB cream and face mist.)
See more of all things skincare here!
Does oil feature in your cleansing routine? Has this peaked your interest?