 Rita Ora is everywhere! On the radio, on TV, hell, she even turned up in 50 Shades of Grey. And yet, I don't quite know what she does. Yes, I know her main claim to fame is for singing (eh, isn't it?) but I'm fairly sure I haven't heard any of her songs.
She must have something going on since she's a The Voice UK judge and she turns up on the front row of fashion shows. Still, the Rita Ora thing baffles me. Some enlightenment on the matter please!
Anyway, for her latest endeavor, she's teamed up with Rimmel for a nail polish collection that's actually very nice indeed. Following in the footsteps of La Moss, Rita has her signature all over this colourful collection. As in, her actual written signature. Not sure if any of these are her signature shades. No matter, they're all lovely. 
Obviously, they're not just any nail polishes, they're super, 'rock hyper-real' and one stroke delivers a base coat and top coat finish in one - apparently. Let's try it out!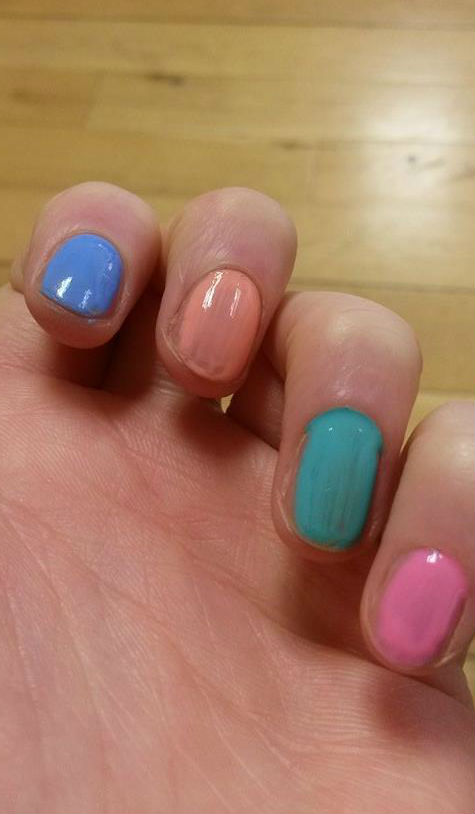 As you can see one coat is not perfect but the colours are gorgeous, right? They pack more of a punch than your average spring pastels, just give them another coat and they're right as summer rain! Rimmel has been using the same nail polish brush for a while now and it's very well designed. Precision, easy to apply coating is where it's at!
Advertised
There are 11 bright shades to choose from in the Colourfest Nail Collection by Rita Ora, they're available from March 23rd and each bottle costs €4.49. Oh, and they have brilliant monikers! I tried Roll in the Grass (green), Bestival Blue, Peachella, Daisy Days (yellow) and Sweet Retreat (pink.) I stayed away from Port-a-Loo Blue - although the colour match is spot on.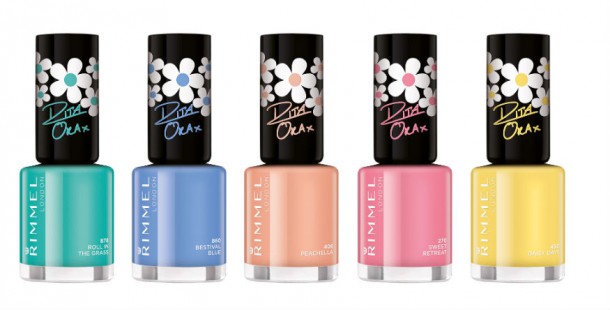 Do you like the look of this bright, summery, colourful collection? What colour do you gravitate towards in the summer months?