 Autumn is the harsh channel back to the dregs of winter. With leaves falling off the trees and the damp wet sideways rain that only happens in Ireland, it leaves you soaked and shivering all day long.
What I do like about autumn, though, is the change in fashion, both makeup and clothing. Wear a nice winter hat, gloves and scarf! Go on and buy this season's winter coat and boots! Get all cosy and snuggly and warm.
When it comes to makeup, I always love to see the skin products become more matte, and the reintroduction of rich and luxurious deep and dark lips colours. This is my favourite (lazy) makeup application as it's so easy to add to your daily makeup routine to bring it from day to night.
Finding the right colour for your skin tone to amplify and complement your features is another battle. By rule of thumb, a blue toned red or dark lipstick will always be more complementary and easier to wear than an orange toned one.
If you're still confused don't worry, let us do the hard work for you.
Advertised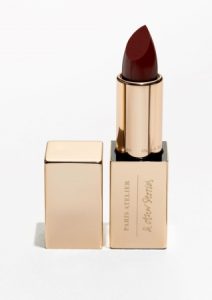 This colour is exactly what you want to add to your Autumn/Winter wardrobe. It will dress up any outfit in a jiffy. So if you are always in a hurry but have to look your best, this is a perfect shade to make skin look clearer and teeth look whiter. What I love most about this lipstick is the satin finish and how it glides on and builds up. That way it can be worn as a lip stain with just a tiny pop of colour or a full-on dark lip to amplify your night look.
The formula doesn't smudge and also lasts for hours. This is an absolute must for your A/W wardrobe.