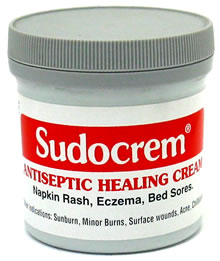 Myself, Aphrodite and fellow women bloggers Annie Rhiannon, Red Mum, Grannymar, Homebug and Gaelick met up on Saturday. Over many whines in the Market Bar, Annie's pal told us about a product a beauty editor friend of hers had recommended as the best anti-ager she'd ever used. What was the product, we excitedly enquired?
Sudocrem.
SUDOCREM!? Yep, the stuff you put on babies arses. Everyone laughed in bemusement and surprise - how? How on earth did the editor discover that? Not sure, was the answer, but the gal was trying it and I have to say, her skin was fantastic looking. Anyway, in the words of Vic and Bob, I couldn't let it lie, and took a magnifying glass to a pot.
Advertised
Zinc is the number one ingredient in this stuff, and as we know, it's an effective physical sunblock, and it's what makes it so white and thick. Check #1, for Sudocrem's anti-ageing properties so - lots of sunscreen is Always a Good Thing. And while there are things like Benzyl Alcohol used as solvents in there, there are also emollient ingredients like lanolin, parrafin wax and beeswax in the mix. Check #2 for Sudocrem, it's nice and moisturising, an essential in any anti-ager.
So, what do you reckon, gals? Willing to give this one a go in the quest for youthful skin? Oh - and if you do, I think I'd advise at-night use only!