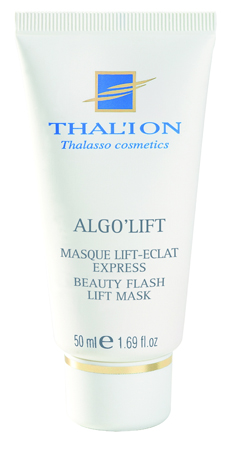 The obvious comparison with Thal'ion's new Algo'Lift Beauty Flash Mask is  of course Clarins Beauty Flash Balm, and in some ways they're very similar: both are peachy-coloured, nicely scented and French, of course.
Except I think the Thal'ion product has a couple of things to trump Flash Balm. 1) the price. This baby is a mere €22.95. 2) it's got magical ingredients like seaweed (a feature of the brand) for hydration as well as caffeine and ginseng, which make it a bit of a hangover helper. Oh, there's also something fancy in there called Skin Repulp Cx for firmness and density. Stimulating collagen production, it also claims to improve tone and elasticity over time.
While you can use this in a thin layer under makeup, I've been using it as a masque to treat skin that's been pretty knackered by a really bad cold and a busy few weeks. It's lovely! Slap it on for ten or twenty minutes and skin is left feeling smooth and less wrinkly-crinkly, specially round the eyes.
Advertised
Salon only, so you'll have to look for this - for a stockist near you, call 046 948 1091.