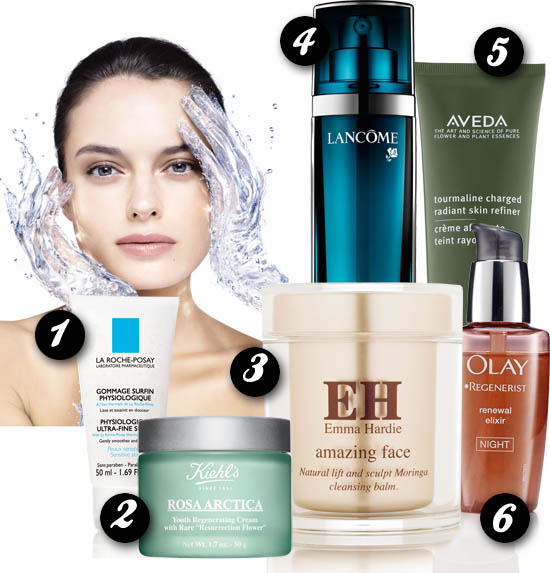 It's autumn - rapidly turning wintry - and that means it's time for some new skincare resolutions as faces crack and break out the nation over as we switch the central heating on. I'm currently waging a battle I'm hoping very much I win with dehydration lines under my eyes, which I fear are ageing me by approximately 56 jillion years, and reader Typo Queen brought the seasonal skincare slump back into sharp focus for us yesterday when she wailed on the blather about her skin breaking out despite having changed nothing in her routine.
So, with that in mind, here are our recommendations for getting your best ever skin this season.
1 Thou Shalt Not Use Cleansing Wipes
Sigh. They're Ireland's number one cleanser and it's mostly because they're cheap and easy. But like a lot of cheap and easy things, they're not particularly good for you. "I can usually tell when I do a facial on a client if they have been using wipes! They will take off the outer makeup but they do not cleanse the pores, leaving makeup, dirt and sebum," says Elaine Butler Doolin, beauty therapist and owner of Dublin's Bespoke Beauty (she's just moved into swanky new premises, by the way. Look for Elaine from now on at 95b Morehampton Road, Donnybrook, Dublin 4).
Is there anything ok about these Works of Satan? "Cleansing wipes are fine for a night or two if you are away or it's a late night but they are not suitable for continuous cleansing," she adds.  That's you told.
2 Thou Shalt Adopt a Proper Cleansing Routine
If you've never really found a cleanser that does it all, then try and oil or balm. These potions are often packed with skin-friendly plant botanicals and melt all makeup (including waterproof) in seconds, emulsify to an oil with warm water and are then buffed off the face with a warm, damp muslin cloth. Fuss free and effective, skin will glow, impurities will be greatly reduced and you'll find you use less moisturiser.
There's no need to worry if you're sebum-prone either, as oil has a normalising effect on a shiny complexion. Try the new-to-Ireland Emma Hardie Amazing Face Moringa Balm, €39.99 for 100ml (3). And of course we always recommend Shu Uemura's lovely cleansing oils as a brilliant pick. In fact, if you'd like to know more about cleansing oils and balms, browse these tags for plenty of in-depth reviews:
3 Thou Shalt Get Skin Assessed – for Free!
French skincare brand Vichy estimate that up to 69% of Irish women misdiagnose their skintype, and if you're wrong-footing yourself from the off, you're less likely to get products that will perform. Many pharmacies stocking the brand are home to trained advisors who can conduct an assessment of your skin using a special diagnostic tool.
Head to vichyconsult.ie to check for one near you offering the Skin Health Consultation service, which we've blogged about before. The advisor will test your skin, diagnose your issues and then prescribe suitable products to suit. Most importantly, you'll be armed with the information you need to care for your complexion in the future.
Alternatively, many Dermalogica salons offer their Face Mapping service for free (call your local salon to see do they offer this without paying for an associated facial, some do, some don't) which is based on Chinese medicine and maps areas of the face to parts of the body - so if you routinely break out on your chin round the time of your period then you won't be surprised to know that this part of the face is mapped to the ovaries.
That's not all: Lancome also offers skin diagnostic services at counters; head to one near you to find out more.
4 Thou Shalt Not Ignore the Ageing Process
It's a common problem: we tend to ignore the crow's feet until they're carved into our eyes, then panic and assume an assortment of expensive creams will do the trick. They won't; at that point it's injectibles and fillers that need to be called into play. Skincare science has moved on in leaps and bounds in recent years but even the most potent anti-ageing ingredients like Retin-A can only do so much on deep-set wrinkles.
The message is that prevention is always better than cure, so when should you start getting serious about your skincare? "This may sound frightening but the skin starts to mature form the tender age of 25," says Elaine. "Ideally anti-aging should start from the age of 20 or so."
For starter anti-ageing, take a look at Neutrogena's new Multi Defence range - it's designed specifically for those who want to embark on good preventative regime.
Advertised
5 Thou Shalt Use a Serum
An excellent way of turbo-charging your skincare routine, serums can be used morning or evening and are basically concentrated potions to add extra hydration or anti-ageing benefits. For use before your day or night cream, these clever cocktails are a girl's best friend. Olay's new Regenerist Night Renewal Elixir, €36.99, (6) is a smart prospect. For use before you catch your zeds, it contains a ramped-up dose of glycolic acid to resurface skin plus hydrators, anti-oxidants and pro-vitamins to plump and smooth.
I love the idea of this and trialled it twice over to test its ways but found it didn't do a whole heap for me particularly - but I think it's worth a shot if you've an oilier, textured skintype that could do with a gentle dose of resurfacing and sebum-reducing. It definitely contains actives - you can feel them tingle - but I think because I am already lucky to have fairly smooth skin that there wasn't enough of a difference to be seen.  Worth a shot for other types, fo sho.

6 Thou Shalt be Aware That Products Don't Just Stop Working
Turning 30 or 40 (which are biological markers), loosing weight, the weather, coming off the contraceptive pill, taking a course of antibiotics or being under stress can all affect how your products perform. This is often the source of the "it's stopped working" complaint. When it comes to skincare, unless a product has been reformulated, once it stops doing the trick it's likely you've changed and it's time to reassess. If a light lotion is no longer keeping crepey eye lines at bay, skin feels tight and makeup doesn't sit the way it once did, then you need to switch up to a richer brew.
Kiehl's Rosa Arctica, €52, (2) is a great new pick which contains the resurrection flower, a plant which is used for its exceptional abilities to retain water. There's lots of other nourishing goodies too like vitamin E, cocoa and shea butters, essential fatty acids and hydrators like glycerin and squalane.  We've already featured this and I reckon it's no bad sub for the much pricier Creme de la Mer - check out my thoughts on it here.
7 Thou Shalt Read The Science Bit
As beauty brands rush to out-do each other, that's great news for us. Skincare is better trialled, tested and peer-reviewed than ever, so before you buy, look for products with good clinical trials to back them up. Visionnaire, €70, from Lancome, (4) is the brand's latest star anti-ager (we have loads of info on it, so just click the link!) and was blind-tested by the same team at Manchester University who also tested Boots' famous No7 Protect and Perfect Serum.
They're independent, so they assessed it that way and found it did live up to its claims. Those are a reduction in pore size, wrinkles,  and an improvement in skin texture and evenness. It's been selling out all over since the launch date, and has garnered rave reviews to boot.
8 Thou Shalt Exfoliate
If you don't already exfoliate, it's definitely time to look into changing that. "There are several benefits of exfoliating," explains Elaine. "Buffing dead skin away keeps it from clogging pores which can lead to blackheads, whiteheads and acne. It can also help reduce or prevent the appearance of fine lines by gently removing that first layer of skin so not only will skin feel better but it will look better."
And that's not all: once the top layer of dead skin is removed, whatever you layer on top, like serum and moisturiser, will work harder and absorb more efficiently. Try Aveda's new Tourmaline Charged Radiant Skin Refiner, €38, (5) for use two-to-three times a week. It's mild and gentle but still scrubby enough to be effective. Too pricey for your blood? One of all-time-my faves has got to be La Roche-Posay's brilliant Physiological Scrub, €14, (1) which is a little more purse-friendly.
9 Thou Shalt Not Eschew SPF
One of the kindest things you can do for your skin is to protect it from UV rays, which are what cause most of the problems we associate with ageing skin. "Regardless of skin type, a broad-spectrum, water-resistant sunscreen with an of at least 30 should be used year-round," advises Elaine.
But why? "UVA exposure leads to signs of premature aging of the skin such as wrinkling and age spots." It's scary stuff and you do need to be vigilant year-round to avoid cumulative damage. "Don't reserve the use of sunscreen only for sunny days." says Elaine. "Even on a cloudy day, up to 80 percent of the sun's ultraviolet rays can pass through the clouds. And we sure have plenty of cloud in Ireland!"
Check our recommendations for good, trialled-and-tested SPFs in this tag.
10 Thou Shalt Not Smoke
It's not just your lungs that suffer if you're a fan of cigarettes. "Smoking will deplete vitamin C and this will in turn cause aging of the skin by slowing down collagen synthesis," Elaine explains. "It causes the carbon monoxide levels in the blood to increase, promoting the formation of age-inducing free radicals." Yikes.
Advertised
And here comes the clincher: "Heavy smokers have an almost five-fold increased risk of wrinkles compared to those who don't," she reveals. But there is some good news. Skin bounces back. "Yes," Elaine confirms, "it will recover especially if someone has been a heavy smoker, and they will see an improvement in a matter of weeks."
A version of this piece appeared in the Irish Examiner Weekend magazine in September - you can check out my page in the mag each and every week. Needless to say sure it's only fabulous. Ahem.