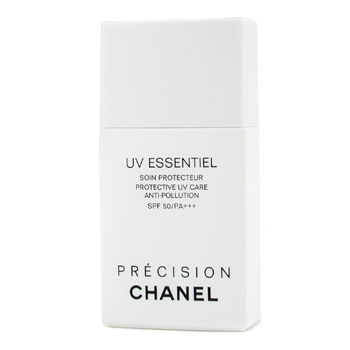 Yesterday we had a grand auld chat about sunscreens. Some of you thought, nah, they're not for me, others were emphatic about daily use. But almost everyone wanted to know which ones are good. So, I hereby present a very unexhaustive list of sunscreens (facial mostly) which I rate.
This is my #1 weapon for the summer. It's sleek, it's sexy and it's Chanel. Yes, it's €40.50, but UV Essentiel is bleedin' brillo. With a massive factor 50, there's no horrible ghost-effect so many other high factor products suffer from. Add a lovely smell, the fact this is ace for oilier skins due to a mattifying effect (for the rest of us it also provides a great base for makeup too), and this is one hell of a sunscreen.
La Roche-Posay Anthelios XL 50+ is another very high factor product that's constantly winning awards and accolades. Easy to buy, most chemists carry it, and it's not madly dear either - in the €20 region. I like the fluid version as it's nice and thin, easy to spread and doesn't do the awful white thing. Brilliant.

With an SPF15, DDF Daily Organic Sunscreen is a Strawberrynet steal, at €26. I've used the SPF30 version and found it to be great. Likewise, Clinique City Block Sheer Oil-Free Daily Face Protector SPF 25 is one click away and on sale at our fave fruity beauty site for €20.
Advertised
Minerals are great for those with sensitive skins too, as noted by some commenters yesterday. If you're madly allergic, they can be a great choice. Most high-quality mineral foundations include a good SPF by the very fact of their pure, unadulterated ingredients - minerals, being milled from rocks, provide a physical barrier to the sun. Bare Escentuals is an example of a mineral foundation with a built-in block, and Eminence, Jane Iredale and Susan Posnick also provide high-quality mineral products that are very trustworthy.
Hamilton is an Aussie brand that creates really good products at really good prices. Yucky packaging, but sure who cares if the product inside does the job? And it does - we like Everyday Face SPF30+ here at beaut.ie.
Lastly, Dermalogica make great sunscreens for face and body. Two recent launches worthy of note are their Oil Free Matte Block SPF20 (great for men and the sebum prone) and their Super Sensitive Face Block, perfect for those who find that streamy eyes and irritation go hand-in-hand with the wearing of SPF. This stuff provides a high factor - 30 - and is really kind to skin.
Like I say, this isn't exhaustive, and these are just off the top of my head. I'm also heading off for a few days R 'n R this morning so I will attend to questions when I get back, but don't forget, we'll be covering this topic in lots more detail soon!