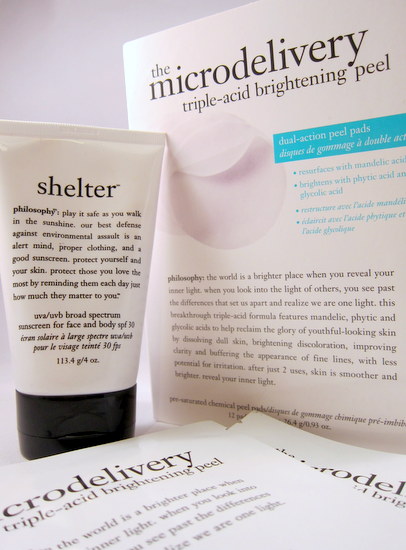 According to most dermatologists I've talked to, the secret to great skin is regular exfoliation and a daily sunscreen. Exfoliating does more than just ease congestion and de-clog pores, it can help make you look younger, too. (Read more in this post!)
That's why chemical peels and the like are so popular: they slough off dead skin cells to soften fine lines and reveal younger, fresher looking skin below. But if your skin's in any way sensitive you need to be careful – I've had mixed experiences myself, from looking glowy and fresh-faced and yes, younger, after a treatment to being a big red blotchy mess.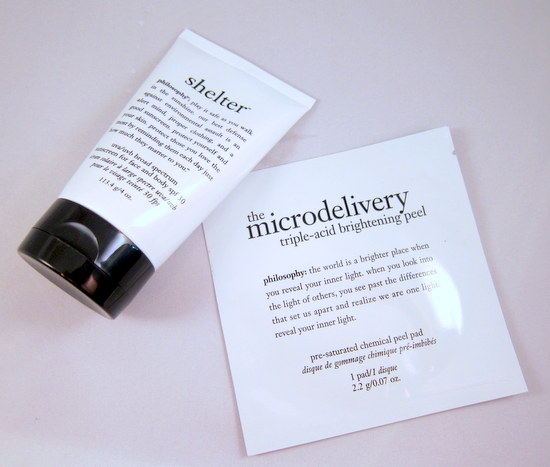 So when I received these products from Philosophy I was curious, but wary. The Microdelivery Triple Acid Brightening Peel came out this month and comprises 12 individually wrapped pre-saturated pads, for use at home on a weekly basis.  The product targets a whole host of skin concerns from discolouration and pigmentation to uneven skintone, acne scarring, fine lines and wrinkles. You just swipe the pad over your face and the triple-acid formula gets straight to work dissolving your dead skin cells and softening fine lines.
Promising fast results, this is marketed as suitable for sensitive skins – you just need to rinse the product off after 3-5 minutes (otherwise, you leave it on all night). It utilises a particular type of alpha hydroxy acid (aha) called mandelic acid, which has all the exfoliating benefits of a standard aha but with less chance of irritating the skin.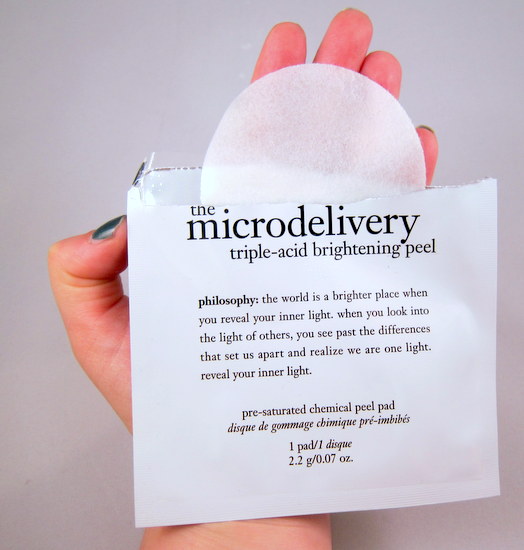 Advertised
So how did I get on? Happily, I didn't experience any stinging, discomfort or redness – but to be safe, I still rinsed after five minutes on the skin. After a good ten minutes inspecting myself in the mirror, I huffily concluded it had no effect at all. But in the morning it was a different story. My skin looked brighter and plumped up – I looked well rested, despite a sleepless night. And I was very tempted to use another pad immediately, but I'm forcing myself to wait another week.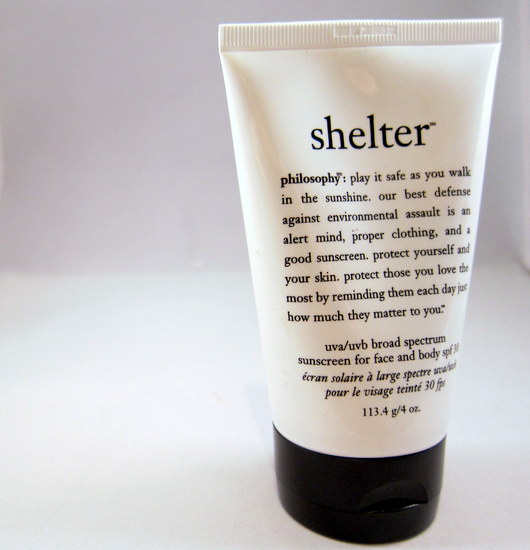 In the meantime though a product I can and have been using everyday is Shelter, the brand's daily sunscreen with UVA/UVB broad spectrum SPF30 PA +++. Daily sun protection helps protect against premature aging, so it's a great idea anyway, but it's critical when you use retinol, alpha hydroxy acids or other means of chemical exfoliation. The younger skin that's revealed is very vulnerable to the sun, so you need to protect it from damage.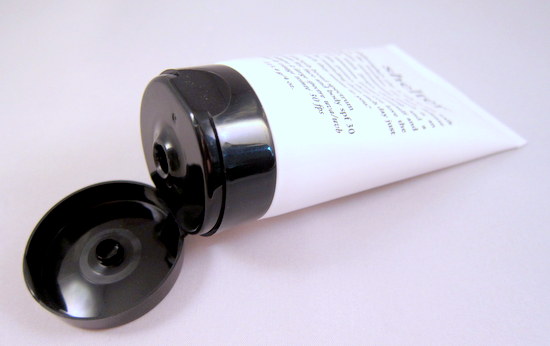 I've tried a lot of facial sunscreens throughout the past year – see what else I recommend here – and I've heard conflicting reports about this one, but it's one of my favourites yet. It's a thick, slightly tinted cream that applies colourless, absorbs quickly and smells pleasant and uplifting, thanks to extracts of lavender and blackberry. It feels lovely and silky on my skin, and gives a matte, smooth finish that's a great base for makeup. It's equally as good as my highest-end mattifying primer, and as well as the sun protection it's packed with all sorts of antioxidants to protect skin from external pollution. I'm liking this a lot.
Look for Philosophy in Arnotts; the Microdelivery Triple Acid Peel is €74.90, Shelter is €28.60.
Advertised
Would you give either of these products a lash? What do you swear by for younger looking skin?