 We get very excited for new foundation launches. This week, we've been trying out the new one from Too Faced, Peach Perfect.
Too Faced Peach Perfect Foundation is a 'comfort matte formula' infused with peach and sweet fig cream. It's described as an oil-free, 14-hour wear, oil controlling and photo-friendly formula, which completely sounds like it ticks a whole lot of boxes for me.
When your skin is oily, like mine is, it's usually uneven in texture and features open pores. For this type of skin, the dewy look is but a dream (and on us, it's an oil-slick) as illuminating foundations tend to just highlight big pores. The Too Faced Peach Perfect Foundation formula is matte but it's not so matte that it looks chalky or dry on the skin. Your skin still looks natural enough.
The coverage is medium but buildable so you have a bit of variety with this for your day and night look depending on how you apply it. If you prefer a more natural look then go with a fluffy foundation brush, but if you prefer fuller coverage you can apply it with a flat brush or beauty blender.
Too Faced
Advertised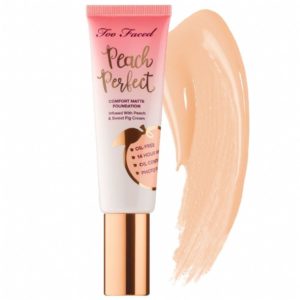 Too Faced Peach Perfect Foundation €32
The scent of this foundation is the first thing you will notice as it is extremely peachy. Surprisingly, it goes on almost like a gel but turns creamy on the skin. It really blends well and almost turns to a velvet finish on the skin. It's not powdery or drying and doesn't stick in lines. What I found is that it almost takes a while to settle but when it does it lasts all day long. It's not going to give oily skin a dewy finish, but it does make your skin look great.
This foundation is great for normal, oily and even partly dry skin as it doesn't cling to patches. However, it will look a little fuller in coverage on a drier skin type. It's not as heavy as your Fix Fluids or Double Wears, but it is buildable. Once paired with a good concealer and setting powder, it does exactly the job you need.
I was pretty impressed; the only thing I wasn't a huge fan of was the smell, but that only lasts a couple of seconds so I can forgive it.
Advertised
What do you think of heavily scented foundations? Do you like when they smell of fruit? What foundation are you currently wearing?