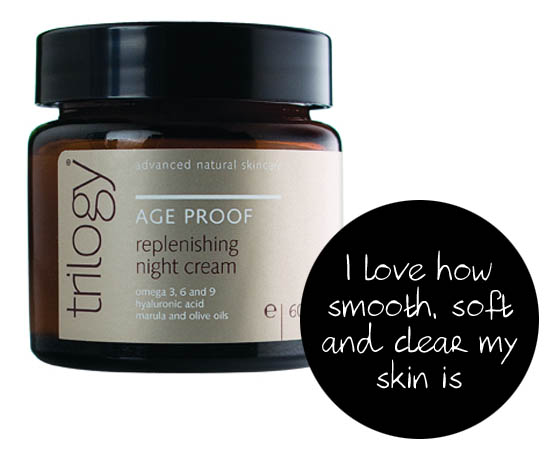 I have been using Trilogy Age Proof Nutrient Plus Firming Serum for a long time now, so I'm not sure why it took me so long to try out the Replenishing Night Cream, €34.95, from the same product line. I think I had the idea that it would be a heavy-textured cream and possibly result in clogged pores, but it turns out my suspicions were unfounded. Although the cream is the type best applied by patting it in after warming in your hands, it sinks into the skin very easily, leaving it feeling velvety to the touch, but with no creamy or oily residue.
Designed to help support the skin's regeneration process while you sleep, Replenishing Night Cream is packed with hydrating botanical ingredients like sweet almond oil, cocoa butter and evening primrose oil, as well as hyaluronic acid (marula, olive, avocado and rosehip seed oils also feature in the ingredient list). A number of additional plant extracts such as licorice, mulberry, cucumber, chamomile, aloe vera and green tea round out the antioxidant offering, all adding up to a very interesting ingredient list aimed at nourishing the skin, restoring elasticity and smoothing fine lines.
My skin is a lot drier than normal at the moment, so despite the inclusion of so many moisturising ingredients, this cream alone isn't quite hydrating enough for me in certain areas. I am using the Nutrient Plus Firming Serum underneath, but as it isn't a very rich or oily serum, I do find I have some dryness on my chin if I don't alternate the Replenishing Night Cream with a more hydrating cream every so often or combine it with a richer serum.
Advertised
This isn't necessarily a bad thing. I do love how smooth, soft and clear my skin is using the Replenishing Night Cream, and more so than with other more hydrating creams even when it's relatively problem-free in general at the moment. So I'm glad it's there as an option to use in rotation or combination with other products at the moment and more frequently when my skin is less dry than it is now. I often find that the "natural" creams suitable for sensitive skin tend to be very rich and it's good to find one that is both lovely to use, effective and yet not overly rich so that it clogs pores on delicate skin.
If you are a fan of Trilogy's Rosehip Seed Oil, then you would probably love this cream in combination with the oil for drier skin. Unfortunately I find the oil makes my facial skin very itchy (though it's working exceptionally well on my ever-expanding pregnant stomach at the moment).
If you have dry skin and are looking for one cream that does it all, this may not be enough for you. But if dryness isn't a concern, then I'd definitely recommend Replenishing Night Cream as a good night cream that is a pleasure to use and performs very well.