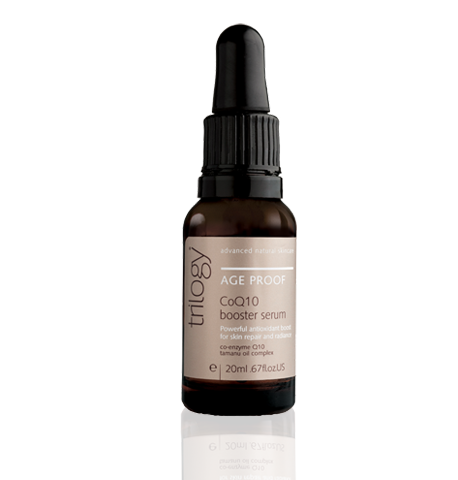 I've been a bit lacklustre about Trilogy - just not getting why everyone raved so much about this brand (Read the millions of love for Trilogy here). So when I got this new oil to try out I shrugged my shoulders and thought, sure I'll give it a go, not expecting too much.
"Created to boost skin radiance, this 100% natural elixir with CoQ10, Tamanu and essential oils combats dull, tired or dehydrated skin" trumpets Trilogy and I have to say it's doing the job. I have a terrible time trying to keep my dry skin from dehydrating and this is just like a drink for skin. Quickly absorbed it really does refresh and soften. I've been letting it sink in, and because it's been fairly sunny applying a high factor sun screen on top and that seems to be a fine base for makeup. At night I've been using it with a night moisturiser on top - and can I just say there were fine lines that were starting to freak me out that are no longer in evidence.
Packed full of natural ingredients to nourish skin, I'm really liking this dark liquid.
Advertised
So I've come round to Trilogy. Who would have thought it eh?
Buy Trilogy from Lovelula* (this product €34)
Get Beaut.ie Delivered
Stay updated with Beaut.ie newsletters full of the latest happenings at Beaut.ie as well as great offers and things we think you might find interesting .