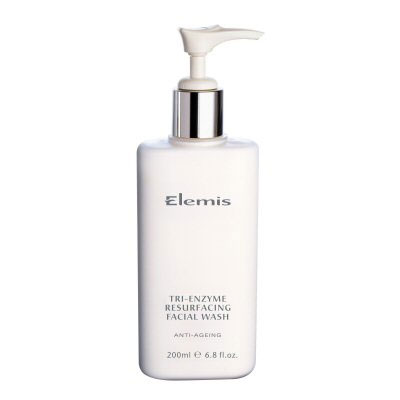 Elemis is a brand that I've always regarded as a bit touchy-feely: great for facials, now, but a lot of their products sort of strike me as hippy and flowery and just lovely smelling. All talk and no trousers type of thing. Those notions might all be about to change courtesy of their Tri-Enzyme Resurfacing Facial Wash, though - no hint of skin-stroking soothingness in that name! - which I've been having a go of in the last little while.
Part of a suite of resurfacing products which also includes a serum, a night cream, and a face mask, this is a deeply cleansing wash that has actually been making a genuine difference to the state of my face. It works, according to the blurb, by stimulating the skin's natural cell renewal process for safe and effective smoothing, resurfacing and refining of the upper layers of the skin, while sloughing away dead skin cells that can dull the complexion.
There are no harsh granules involved in the exfoliating action here: instead, papain, which is a natural fruit enzyme derived from papaya, gently works to dissolve those pesky dead skin cells and reduce acne scarring and fine lines. The rest of the ingredients list sounds equally delicious and exotic, and sure it wouldn't be an Elemis product without a shedload of natural stuff.
There's Brazilian babassu oil, which is rich in fatty acids to help restore moisture levels. There's anti-oxidant moringa. Thre's poria cocos root extract, if you don't mind, or "white truffle" to you and I, which supports the skin's natural micro flora without affecting pH levels and contains organic acids and proteins to maximise cell function.
Advertised
Fancy.
I've noticed a definite improvement in the appearance of fine lines, my pores are looking significantly refined, and my skin generally is looking clearer and smoother while my overall complexion's decidedly more bright eyed and bushy tailed. And that's all without a hint of dryness or tightness. This one's definitely a keeper!
€30.50 from HQhair.com where there's a special offer on Elemis running until midnight this Thursday, 23rd April - get a free gift of their 3-piece Bathtime Bliss Set with purchase of any two Elemis products. Use code "ELEBLISS" at checkout to avail of the offer.