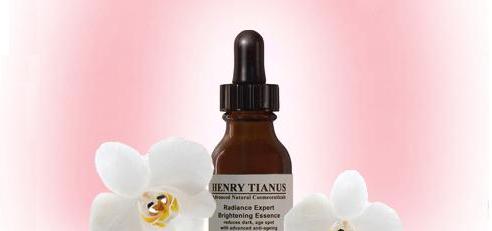 Hands up: I was guilty of indulging my inner 14-year-old boy on initially reading the last few letters of the maker's name when this set of products arrived for me to trial. Once the tittering had subsided and I reverted to being a Grown Up Girl, I spent a few minutes admiring the packaging. All smoked brown glass and rubber pipettes and clear glass droppers, Henry Tianus put me in mind of a very olde worlde apothecary, complete with rows and rows of small wooden drawers and glass-fronted cabinets and a wizened, bespectacled chemist.
It's not just on the outside that this range goes back to basics: the products are formuated without (deep breath!) parabens, glycols, silicones, synthetic fragrances/colours, harsh detergents, SLS, mineral oils, and petrochemical derivatives. Instead, they contain plant and vegetable extracts which are largely organic.
I gave the Rosewood Cleansing Cream, Rose Aloe Toner, and Anti-Aging Facial Self Tanning Gel a whirl, and very much liked all three.
The cleanser is a rich, creamy affair and neither it nor the toner left my skin feeling at all dry or tight, and while I don't usually risk using tan on the oul' mush I was pleasantly surprised by this laddie. I always have a gripe with tans which don't have a guide colour so you can, y'know, see where you've tanned and where's still to do and avoid any mad white patches, but even though this was colourless it blended well to give a seamless, fairly subtle glow.
Advertised
In addition to that nice little triumvirate, I also got my paws on two of Henry Tianus' star products: Antioxidant Youthful Essence and Overnight Skin Perfector. These are two powerhouse anti-aging serums each designed for use once daily under moisturiser, and are suitable for all skin-types. Youthful Essence claims to stimulate collagen production while protecting against free radicals, pollutants, and premature aging. Overnight Skin Perfector, meanwhile, purports to stimulate skin renewal activity and combat fine lines.
Now, no-one accosted me in the street to tell me I was looking 10 years younger, but I did notice a definite softening in the fine lines on my forehead that are starting to slowly but surely become not-so-fine, and my skin generally looked smoother and less, well, tired.
Me likey it all!
For a stockist near you and prices, email [email protected] for details.