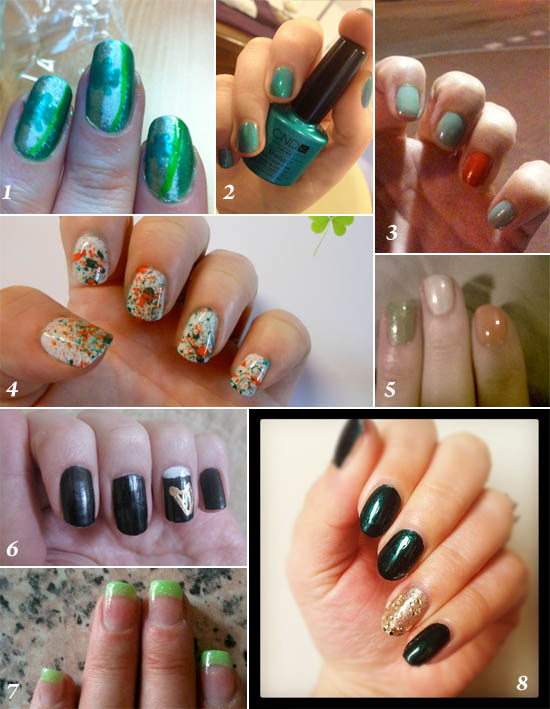 We knew we'd a creative bunch of nail nuts following us but when I asked on twitter earlier if anyone had a Patrick's day-inspired manicure they'd like to Twitpic to the @beautie account, in just a few minutes I had a ton of nails looking back at me from my Tweetdeck screen. Here are the eight that were most big day-appropriate:
@Lieenie hasn't quite got 40 shades of green but she does have three: glitter, stripes and shamrocks make up her festive talons
@nuessencebeauty showed us some Paddy's Day Shellac, using a CND shimmery teal
@JaneyHurley tweeted us her homage to our Patron Saint all the way from Oz. Now that's what we call dedication to the cause
@ItsCherrySue's awsome abstract spatter was inspired by one of Lynnie's tutorials and is very cool take on a trad Paddy's day nail. Learn how to pull off the technique and check CherrySue's blog out here
Cel @madamesmadeup has some subtle Tricolour nails rolled out for the big day. Check her blog for more beauty musings
Loving these clever Guinness-inspired talons from @skew_earring. She's another with a beauty blog that's worth a gander
@lovelyleonard showed us the nails she'd done for her mum - plain base and green tips. We like!
And we round out our greening with @likemamuse2bake's fab forest green and accent gold glitter nails (psst: check her lovely baking blog and get an instant case of the noms)
Good work everyone!
Advertised
What's your fave, and what are you planning for your talons for tomorrow's festivities?