 A new mascara is coming straight for you this October from 'feature makeup' focused brand, Urban Decay.
I love, love, love this mascara. The new formula is perfect for anyone craving big and dramatic lashes. The high-intensity formula promises 13.7 times more lash volume and that's exactly what it delivers. When it comes to mascara, we all have different preferences on what we like; one of mine is a latex wand. I find that it pulls the lashes into shape and coats them evenly without applying too much product. Yet when you want to build, you have the perfect tool.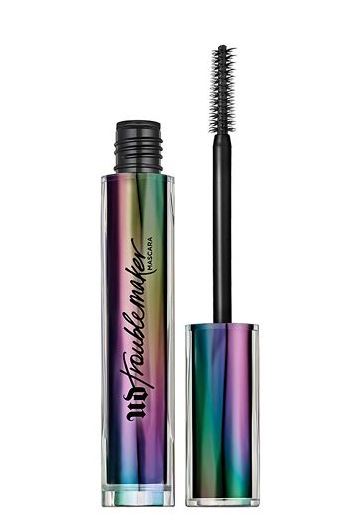 The formula is extremely black which I love. I find some mascaras can look a bit on the grey side when they dry. My lashes were longer, thicker, more volumised (especially when layered up) and had a really nice lasting curl. It promises to withstand the hottest of temperatures, too, so I brought it along on my honeymoon to Portugal where it was 30 degrees and I have to say hands down this is no lie. The high-intensity colour lasts without smudging and not only that, it's not hard to remove at night.
I'm really impressed with this mascara, it gets a huge thumbs up from me. I'm not the only one who loves it, though. Miriam has been using it non-stop. She says it ticks all the boxes of the 'holy trinity' of mascaras: it lengthens, curls and volumises. Turns out it's hard for one mascara to do all three things at once - this does. It's SO good.
Advertised
Troublemaker has been one of the most anticipated mascaras in recent history; Urban Decay's US marketing campaign was heralding it as so good it's 'sex-proof'. UD founder Wende Zomnir tested it out herself...
This is, friends, may just be a game-changer.
Advertised