 Winter is pretty much here; can't you feel that chill in the air? It's time to treat yourself and your skin. Guys, it's facial time.
Your skin can suffer during the cold wet months. Going from a cold outside to a warm in can totally confuse your skin. One good way to keep it happy is to have a good facial and a couple of weeks ago, I tried the Venus Freeze Facial at Kameleon in Dublin City Centre.
How It Works
My facialist Joan started by cleansing my face with Yon-Ka products. She then applied a special solution which felt slightly sticky to my neck and face. Using specialised machinery called Venus Freeze - which combines radio frequency and pulsed electromagnetic fields - Joan ran this device up and down my face and neck.
While some people may be wary of a facial with the word 'freeze' in its title, honestly, if anything it just felt warm. The whole experience was so relaxing, I actually slightly nodded off.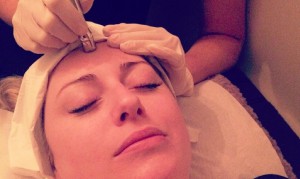 Advertised
What stood out about this facial for me was:
My skin looked more radiant and healthier
My face felt tighter and more lifted
The treatment was pain-free
There was no downtime
I have always been a fan of functional treatments more so than relaxing ones. The Venus Freeze combines both relaxation and functionality and when done in a series of six - eight sessions, it can reduce the appearance of wrinkles and improve circulation. This might just be the next best thing to Botox.
I'm really happy with the results after just one. So I'm moving on to having the same treatment to reduce my cellulite in the coming weeks. Which I will tell you all about. Check out Kameleon to book your Venus Freeze treatment.
Have you tried any jaw-dropping anti-aging treatments recently?
Advertised