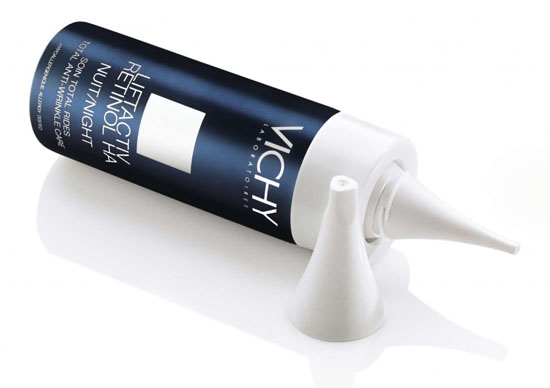 Oh c'mere I thought. I really have to start blogging about some of the stuff I use every night. For instance I went through a whole bottle of lovely Nuxe serum without a word (shameful, I will write a review I promise) and I will not let that happen to this Vichy night cream.
For you see I love it.
Vichy are a really under appreciated brand I think. Other brands (like Boots) make a huge noise about their scientific results and their clinical trials to yawnarama effect- Vichy have solid scientific data to back up their claims too. But is it because they're French that they like to remain understated and a hell of a lot more chic? I think so.
Advertised
We told you all about the Day version of this cream when it launched and we liked it a lot. LiftActiv Retinol Night (€34) has three times the concentration of Hyaluronic Acid than the day version and this, combined with Retinol and Adnosine, means that this is a hydrating and anti wrinkle powerhouse. I'm not going to even try to attempt to explain the science here: it just is, roigh?  (Read this excellent guide to anti aging ingredients instead).
Plus huzzah, the squirty nozzle yoke seems to have been fixed so that the cream doesn't go everywhere (which resulted in me wasting half the tube of the Day version). And just in case that's not enough moisturising goodness for you LiftActiv Retinol Night is also enriched with Glycerin to hydrate, Shea Butter and Soya Butter.
Read this if you're wondering why night cream is such a great idea anyway.