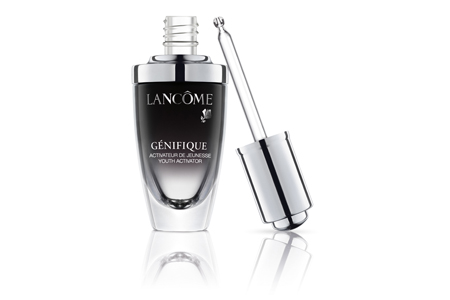 I gave you the heads-up on Genifique a couple of weeks ago and I've even been off to have a chat with Lancome's skincare expert, Debbie McVicar, to get the low-down on what it does, who it's for - and most importantly of all, er - how do you use it?
On counter on March 1st, I've been using this now for a couple of weeks and can confirm that, in beauty jargon, this is very cosmetically acceptable. What that means to you and me is that it's not one of those sticky serums that adds weight and gloop to your routine; which you hate using and abandon after three days, cursing the fifty-odd quid you squandered on it.
All you need is three teeny drops - which should be no larger than a two cent coin - to do your whole face. It's very light (not dissimilar to Estee's Advanced Night Repair or Prescriptives Super Line Preventer Extreme), totally non-sticky and immediately absorbed. How to apply? Rub it between your palms and then apply to your face using upward strokes. Avoid the eye area, is the advice and yep, you guessed it - while there's no confirmation, it seems likely there could be an eye version at some point too.
Because it sinks in so quickly, you can (and should, this is not a substitute for your moisturiser) slap your regular product over the top straight away without feeling like you're adding an extra load to skin. This is key, I think. I've been put off by too many serums (serii??) which have been too heavy - no woman wants to feel like her skin is coated with product. So, when should you apply? Morning and night, is Debbie McVicar's advice, but if you're already using a day serum, then use this once at night. Likewise, if your serum step is an evening one, then use Genefique as part of your morning routine.
Advertised
But - what does it do? Lancome are keen to point out that this is not actually a serum; nor is it a turn-back-time device. Rather, as Debbie puts it, this is an activator that's insurance against the signs of ageing. The science is mind-bending but the brand say they've managed to find the key to encouraging cells to behave like youthful cells, and that's why it's aimed at all ages - use at 25 to keep your young skin acting young, or use at 55 to pay it forward and gain some extra skin-youth.
The claims state that two months should show you a difference, and the bottle, at €70, should last that long if you use the recommended amount.
Lancome Genefique will be available at Lancome counters from March 1st