 If you had told me before I started that this whole acne scar removal process would take over a year I would have thought twice about doing it.
I honestly thought that after two or three hardcore resurfacing sessions my skin would be perfect. But when I actually sit down to think about it that wouldn't make sense at all.
I had severe acne for six long years. I was on every medication possible which bleached, over sensitised, discoloured and even scared my skin along with the acne itself. So if I had it for six years, why would I think that it would take only six months to reverse all the scarring?
After having huge results with resurfacing at the Clear Skin clinic, there was still a bit of scarring on my temples and right cheek. That part was always worse anyway.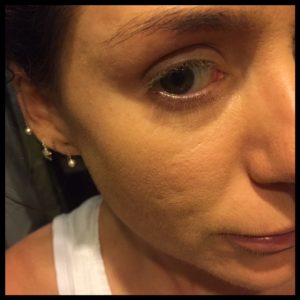 But as you can see, the indentations are still there after six months of skin treatments so far. It's a big improvement from my original scarring, but - they're still there.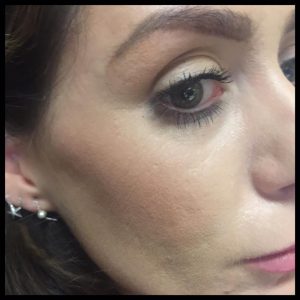 That's where Fraxel came in.
Advertised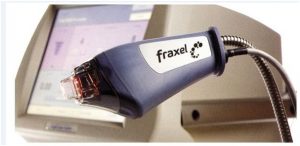 What Fraxel does is rejuvenate your skin, smooth wrinkles around the eyes and target acne scars. It reduces brown pigmentation spots, improves texture, tones ad open pores. A lot, I know, but the best part is, the down-time in minimal.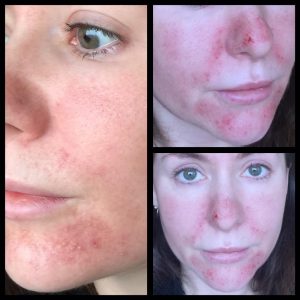 The day after the treatment
The only way I can describe the treatment is that it is like having an elastic band smacking you in the face over and over again, although there is numbing cream applied to your face for 20 mins before the treatment to limit the pain. The machine sends an electronic current into your skin and causes a controlled burn. These machines are top of the line and are only available in five places in Ireland (I went to the Anne Rossi Clinic in Clontarf.) They are top notch professionals and when it comes to your face it's not the type of thing you should be putting in jeopardy.
Straight after the treatment, my face was just a bit red, but the day after and for up to three days my face looked like I had a bad breakout - white heads and all.  After the first time - although I had been warned about it - I did panic a bit. But they disappeared after a couple of days and I could wear makeup* to cover it so it wasn't as debilitating as the resurfacing.
*It's important to remember that you can't wear makeup for 24 hours after it so if you choose to do it make sure you have nothing important on.
Advertised
Now, the results are speaking for their selves. It's no wonder the Kardashians are all getting it! I have seen a good difference in my before and after at this stage and I have two left to do so keep an eye out for it.