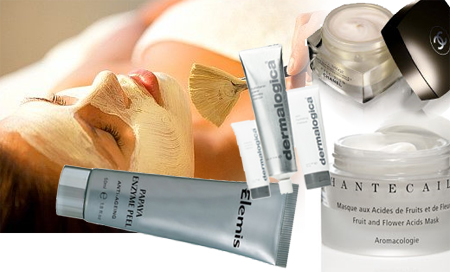 Masques are one of those ubiquitous beauty bits - often seen in films or comedies, they're an instant signifier of at-home pampering. Er, except, most of us haven't a breeze what really suits our skin, and using the wrong one can do more harm than good. So, I hereby present a beaut.ie run down of what sort of masque you might use for your particular skin issue. Don't forget that you can use a masque for oily skin on the sebum-prone areas like the t-zone, and use another one on a different area - this is a great approach to take, particularly if you have combination skin. Leave us your suggestions in comments and tell us what works for you too.
Oily and spot-prone
You need something to purify and remove excess oil. But just because skin is producing excess sebum doesn't necessarily mean it's being moisturised with it. Nope, oily skin can be dehydrated, as mad as that sounds, so look for something to treat your issues, while being kind to your skin overall. A good product to try is Matis' Pure Peel Masque, a gel-based product that absorbs oil and helps to refine the pores - get it in salons. Mud-based treatments are also good at drawing out impurities, and Skin Ceuticals Clarifying Clay Masque, €31 at Strawberrynet, would be an effective pick.
Dull, lack-lustre skin
Resurfacing, fruit enzyme based masques with a peeling effect are great for sloughing off those dead skin cells that are making you look like the undead. Brilliant for a quick fix is Chantecaille's yoghurty Fruit and Flower Acid masque, which can be got at Nue Blue Eriu. Expensive though - it's about €80 odd. Elemis' Papaya Enzyme Peel is a more affordable version, and also very nice to use. The AHAs in the formulation act as non-gritty exfoliators, resurfacing skin in about 15 minutes. €27 at Strawberrynet.

Congested, bumpy and blackhead ridden
Yuck. This is me. Dry skin notwithstanding, my chin is a mess generally, and I need a good product to get all the gunk out. The one I like the most for this is Prescriptives Instant Gratification Skin Renewal Peel, about €40 at Brown Thomas Dublin and House of Fraser. A double-duty product, it's an exfoliator and treatment built into one. Whack this self-heating stuff onto skin, let it do its job, and wash off. Voila - a fresh, shiny-bright face, with congestion seriously addressed. Biore do a cheap version self-heating product, but I'm not too convinced as to its efficacy.
Advertised
Dry and barren like the Kalahari sands
You need moisture, girlfren' - and Dermalogica are hard to beat on t'auld moisturising masque front. Try either the Multivitamin Power Recovery Masque or the Skin Hydrating Masque. Both are available at Adonis Grooming for daycent auld prices. Older skins will appreciate Chanel's Sublimage Masque - their wallets might not, however. It's €128 at Strawberrnet - cheaper than the shops, but still an ouch.
Sagging, Deputy Dawg-effect jowls
Something to firm and tone is what you'll respond well to. Guinot's Energizing Lifting Masque is discounted at Strawberrynet to €32.50, and promises a lifting effect on the facial contour - so a great choice pre-party or big night out, when you want to look your best.
Eyes, the windows to the soul
Another expensive choice here, but Sisley's Eye Contour Masque has saved me on many a hungover morn. Moisture packed, you slick a generous dose on, retreat back to bed to read the Sunday papers and drink Lucozade. Tissue off about 15 minutes later, and bingo: eyes that are not at the back of your head, surrounded by fissures and cracks. €72.50 is the Strawberry damage. Yikes, I know, so start saving.