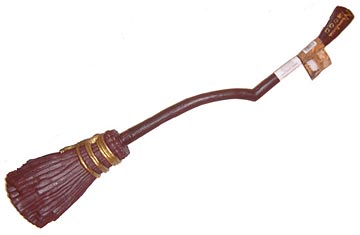 Ah releasing these toys that have an er vibrating function always means that a dual purpose use is found for them.
We've discussed the Hello Kitty vibrator - but this was obviously meant to be a vibrator.  It masqueraded as a neck massager, but that didn't fool anyone for a second.
This Harry Potter toy was even funnier.   The Nimbus 2000 was a full sized broomstick that vibrated when was put between legs to enable play flying.  Flying, soaring - to the stars it seemed.  Produced by Matel the toy became an instant bestseller and tweenage girls loved it.
They really loved it.
The reviews on Amazon were absolutely hilarious.  Sadly they're not there any more as the  broomstick is no longer for sale but some of them have been archived
Advertised
"'My 12-year-old daughter is a big Harry Potter fan, and loved the part with the Nimbus 2000, so I decided to buy her this toy … Even my daughter's friends enjoy playing with this fun toy. I was surprised at how long they can just sit in her room and play with this magic broomstick!'"
"'I recently bought this for my son … This toy gives him the ability to fly around the house zapping things. My only problem I see with the toy is the batteries drain too fast and his sister fights him over it, so now I need to buy her one.'"
"'When my 12-year-old daughter asked for this for her birthday, I kind of wondered if she was too old for it, but she seems to LOVE it. Her friends love it too! They play for hours in her bedroom with this great toy. They really seem to like the special effects it offers (the sound effects and vibrating). My oldest daughter (17) really likes it too! I recommend this for all children."
"My eldest daughter at 17 really likes it too!"  Oh come on! How could did they not know!
But it was not until the broomstick started being sold in New York sex shops that the cloak of invisibility was pulled firmly off.  The Harry Potter empire swung into action and the toy was discontinued.
Ah well.  It was good while it lasted.