 Poor posture has become a common occurrence for many, especially those working from home. With a lot of conflicting advice online, it's difficult to know what positive steps we can take. Beaut.ie spoke to chiropractor, Dr Annabelle Gerrard about what she recommends for improving posture.
Standing up straight with your shoulders back might be something your mother lectured you about. Well, turns out she was right. As we're spending increasingly more time hunched over laptops, our posture is paying the price for spending hours a day looking at a screen. We sought out an expert in posture and found that fortunately, there are many ways to reduce the impact or even reverse these changes to our posture. With so many of us working from home, there has never been a better time to focus on our posture.
Firstly, it can be hard to know if you even have bad posture (assuming you're not a Kardashian/Jenner with cameras following you around all day). If you regularly experience back, shoulder or neck pain, or are prone to getting headaches - these can all be symptoms of poor posture. This is because poor posture increases pressure on certain joints and muscles. Noticeable changes to your health or wellbeing are a serious wake up call to improve your posture. But even if you're not experiencing pain or discomfort, standing up straight can work wonders for your confidence.
We spoke to Dublin based chiropractor Dr Annabelle Gerrard, who works at the Get Back Health Chiropractic and Wellness Clinic, to get some expert tips on how you can improve your posture. These are small and subtle changes that, over time, can make a big difference. However, it's important to note that if you have a pre-existing condition or you have been feeling uncomfortable for more than three months, seeking personalised, professional help is advised.
1. Change your desk setup
Before even looking at your body, it's time to review your work station. Your desk setup is really important to maintaining good posture. Usually, poor posture is caused by the work environment. The major factors are the monitor level and the height of the chair and desk. Make sure you're not looking up too high or too low towards the screen. It is strongly recommended to have a separate keyboard if working on a laptop.
2. Take regular desk breaks
Sitting at a desk for hours a day is not what our body is designed for. Obviously, it's a reality for many of us, so one way to counter it is by incorporating short but regular movement into our routines. Something as simple as getting up every couple of hours to refill your water bottle. It's also a wonderful excuse to drink more water, this in turn means more bathrooms breaks - and even more walking! Getting out and about on your lunch break is another excuse to get away from your screen and get in some exercise. Dr Annabelle recommends at least 30 minute walks where possible.
3. Invest in a good quality office chair
At the start of 2020, the sudden move to working from home meant a lot of makeshift work stations. However, now we're well into our new work routine, getting a decent office chair is key for our posture. Dr Annabelle confirms that office chairs are much better for your posture than regular dining chairs. Dr Annabelle says that at the very least you should always dedicate a chair for working. It is also a great way to create a separation between your professional occupation and your private, personal time. Once you're out of that chair, you are no longer working.
4. Stretch!
A really easy (and satisfying) way to get your muscles moving is to stretch. This doesn't mean a full yoga workout everyday (although that can help). Dr Annabelle specifically recommends stretching your hips and shoulders everyday if you want to help your posture. This can all be done from your room and once you get into the habit, it will feel weird not doing it.
Advertised
5. Increase your awareness
This seems like an easy one, but it's very important. Becoming more conscious of your posture is what is going to make a real difference. Our daily routines are full of distractions, but wherever possible check in with how you're sitting and adjust accordingly. Regularly correcting poor habits will eventually mean you make those mistakes less and less. Dr Annabelle says the common ones to look out for are crossing your legs, letting your whole body fall forward and over stretching your arms for your keyboard or mouse.
There isn't a timescale for mastering your posture so it depends on each individual. If you're still experiencing difficulties with your posture after a few months of trying these tips, go and talk to an expert.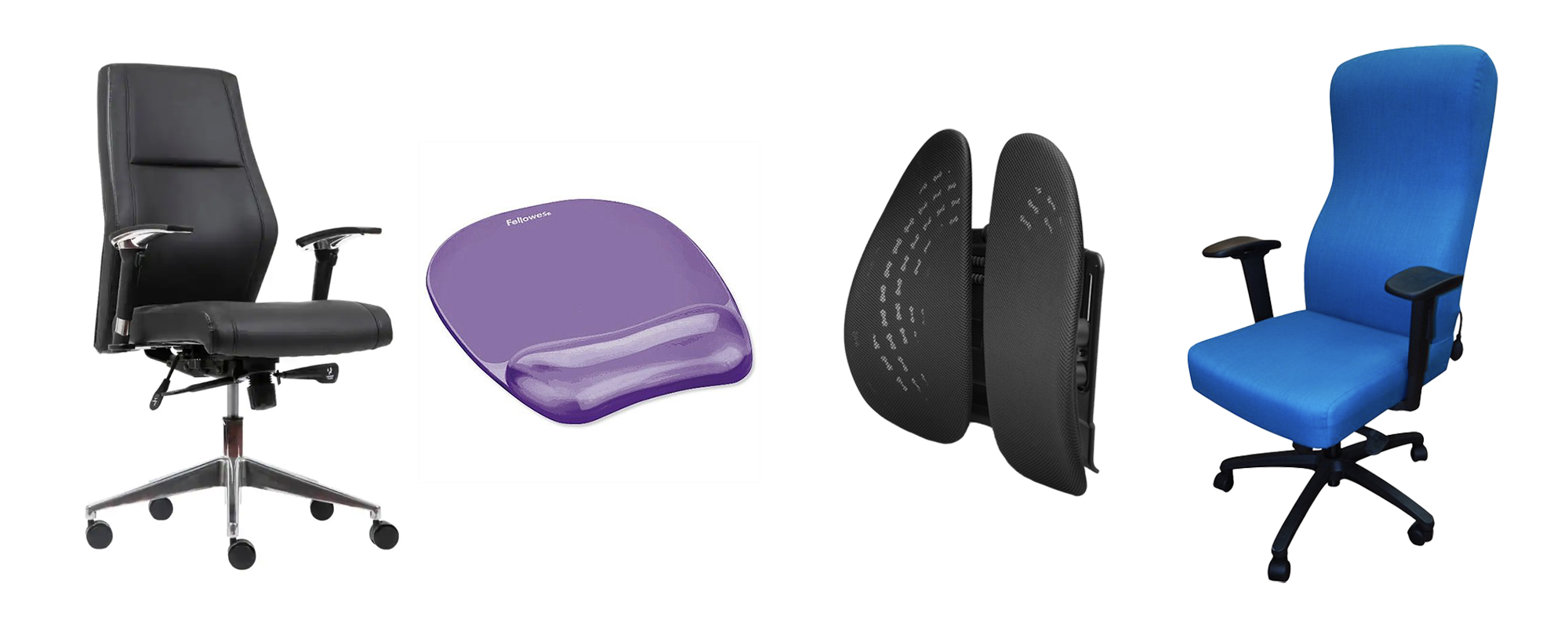 Shop the Story:
Realspace Synchro Tilt Ergonomic Office Chair €229
The Back Shop 'The S1" Office Chair €650
Fellowes Gel Mouse Pad with Wrist Rest €22.95
Kensington Conform Adjustable Back Rest €92
Top photo: Courtesy of Getty
Want more stories like this?
6 Yoga Mats Recommended By The Pros
Advertised
Finding The Right Exercise Routine For You Without Going To The Gym