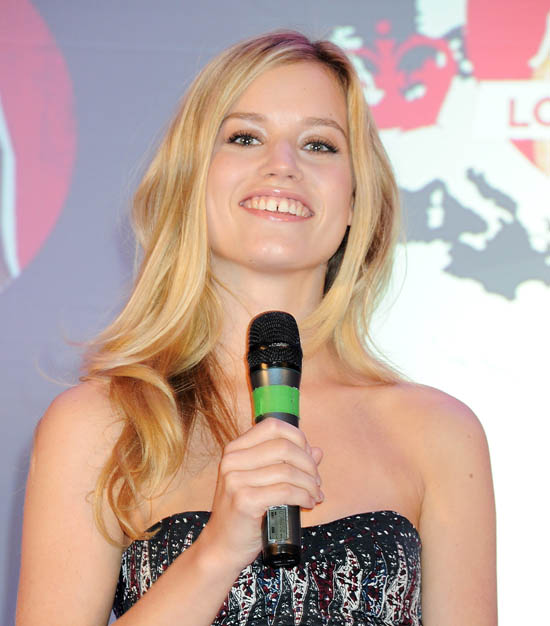 Clad in an Isabel Marant dress and shod in green velvet Charlotte Olympia platforms, Georgia May Jagger's talking about the source of her shoe fetish. "Oh God my mum, she has such big feet" she laughs, throwing her head back. "She's a 42 and only Manolo Blahnik makes shoes for her." While I'm not entirely sure her poor old model mama is going to be delighted that her clodhopping sizing is being revealed to the world's media, it's a bit of a reminder that Georgia is daughter to both Mick Jagger and Jerry Hall.
Where older sister Lizzie takes firmly after her mother, Georgia is the absolute living spit of her dad: here's Mick in gorgeous, tawny-limbed female form. And that toothy gap is completely sexy in real life when she smiles – which is a lot. Bit of a rock-chick too, peeps: "I like heavy guitarists," she reckons, citing Joan Jett, Jimi Hendrix and Led Zep as firm favourites. Raiding dad's record collection, perhaps?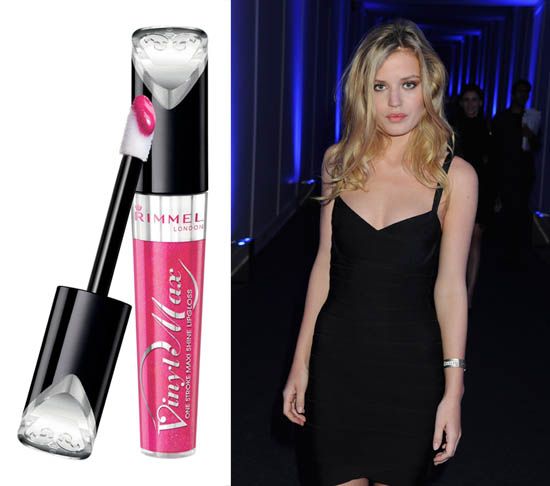 Snapped at the recent Rimmel London party to celebrate Kate Moss' 10 years with the brand and the launch of her first lipstick line, Georgia's also the face of the Vinyl Max gloss range
There's lots to like about this 19-year-old year old, who is undeniably a clever pick for Rimmel, the brand she's a face of - and the reason we're chatting. Check that pillowy pout, employed as the lips of the new Vinyl Max Glosses, which she likes because of the super-sized wand. "You can get it on faster!" she laughs.
This girl is smart too, currently studying photography - "I love modeling, but it can't be forever" - and she knows she's on to a good thing. You read all the time about Mick wanting to keep his kids grounded and here it is from the horses mouth: "My parents instilled in me to work hard and I am lucky to be here and I will work hard," she says, adding, "I want to work with great people."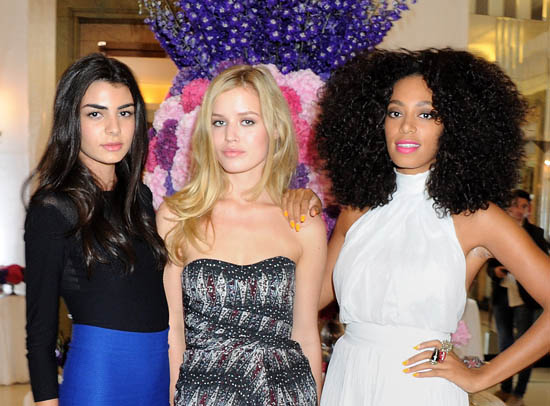 Georgia with her fellow Rimmel spokesmodels Alejandra Ramos, left, and Solange Knowles, right (check out that 'fro!)
Advertised
And so far, she's not done too badly: campaigns for Hudson, the jeans brand, Versace and Chanel have all been added to her portfolio, as well as her Rimmel contract. Giving her a quick once over, it's really nice to see that Georgia, who plainly doesn't need a lot of makeup to mask what's a pretty damn flawless complexion, isn't caking it on. "I don't wear too much, especially on skin. Too much foundation makes me look tired and older, I just prefer to put it where it's needed," she says. Her classic look? Minimal base and a matte lip - "orange or bright red, I change my mind about the colour!"
Other current beauty crushes include the perennial favourite, the smokey eye, but Georgia likes to do it more subtly. Incoming from Rimmel this Autumn are new baked Traffic Stopping Shadow Trios, and she's already a fan. "The browns are great for a smokey eye, they're not too heavy," she explains.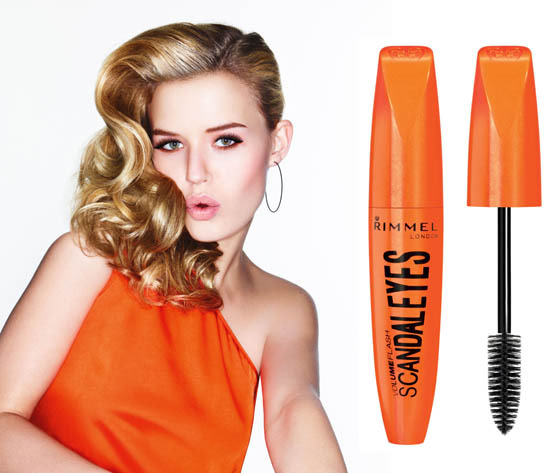 Georgia's next assignment for Rimmel is as the face Scandaleyes mascara, which launches in November
Along with them, she's also loving the forthcoming Scandaleyes Mascara (a whopper of an orange tube, it's got a big wand and is going to leap off stands). "This has a big brush and there's lots of mascara – it's perfect." Anything else? She nods: "I really like Rimmel's 60 Second nail polish. I'm all for things that a girl can put on on the go."
So, if she's legging it to a casting or late for an appointment, what are the absolute essentials she'll do beauty-wise? "Mascara!" Georgia declares, adding a qualifier: "It's kinda hard to do that while walking, so do mascara at home for safety reasons!"
I'm kind of getting the impression that with all this focus on quick! and rush! and gotta-be-there-fast with her makeup that Georgia's got a lot going on, like modeling, college, parties, and places and things to do – and hey, who on earth would blame her. At 19, with her life, we'd all absolutely be living it. She looks fantastic though, and not remotely like someone who burns the candle from one end, let alone two.
So, let us in on a few insider tricks, please, Ms Jagger. Just how do you stay looking so good in what's got to be a hectic life? Clearly, her tender age helps but she's picked up a few tricks from her mother, too. "I drink water to look fresh – mum drinks loads of water and sleeps loads, and it's very important." Anything else? "Rest, good food, air – I'm not a big exerciser but I do walk and I've recently started Thai boxing."
Advertised
Duly noted.
Rimmel Scancaleyes, €8.55, will be available in black from selected pharmacies and department stores nationwide from November 7th 2011