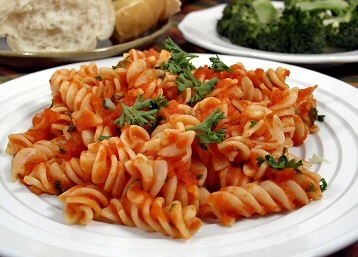 Beaut.ie reader Lucy is no slouch in the kitchen and loves to come up with healthy, tasty recipes. And they're easy. One of the most important criteria for lazy cooks like moi! She's sent a pile of delicious menu ideas, Moroccan, Italian and salady delights. To start us off here's the yummy Italians. My mouth was actually watering when I read these - just one extra request though Lucy - will you come round to mine and cook them too?! I'll provide the Chianti!
Ragù Toscano with Fresh Wholemeal Pasta
Serves 6
2 red onions, peeled 1 small garlic clove, peeled
3 medium-sized carrots, peeled 3 sticks of celery
3 Tablespoons Extra virgin olive oil
Mixture of minced pork (lean) and minced beef (sirloin), enough for 6 people (tastier when use mixture)
peeled tomatoes, ground in blender
2 bay leaves Salt and freshly ground black pepper (to taste)
1 small hot pepper red wine
white wine Fresh wholemeal pasta Parmigiano Reggiano grated
With a sharp knife and cutting board, mince the onion and garlic; using a food processor, chop the carrots and celery.
Heat the oil in a large, heavy-bottomed pot and gently sauté the chopped vegetables together over a low flame for about five minutes. Add the meat and season with the salt, pepper and hot pepper. Stir to blend then raise the flame to high and cook until the meat begins to brown, stirring every so often. Add the tomatoes and mix well.
Lower the flame and let cook until the liquids reduce; then add the wine and let it evaporate completely. Add the bay leaves and then enough water to just cover the meat mixture, and allow to cook over a very low flame for at least two hours, stirring every once in a while to make sure it does not stick to the bottom of the pot, adding more water as necessary. Season to taste.
Serve with fresh pasta, garnished with a drizzle of extra virgin olive oil and a sprinkle of Parmigiano Reggiano.
Italian Baked Fish
Serves 4
4 thick pieces of white fish 1 teasp basil
1 medium onion, finely chopped 2 tablesp extra virgin olive oil
1 large clove of garlic, minced 6-8 mushrooms, thinly sliced
Tin of plum tomatoes, chopped up Sliced black or green olives, depending on preference
Salt & black pepper Juice of half a lemon
Make a thick tomato sauce: heat olive oil in a saucepan and fry onion approx 5 mins until transparent but do not brown. Add garlic and tomatoes. Season with salt & pepper and stir in basil. Bring to simmer and cook gently, uncovered for 15 mins. Add sliced mushrooms and simmer for further 10 mins till thick.
Place fish in a shallow baking tray and season with salt, pepper and the lemon juice
Spoon equal amounts of thick tomato sauce over each piece of fish and top with olive slices.
Cover the dish with foil and bake 25 mins on highest shelf. Fish is ready when it begins to flake only slightly.
Serve fish with sauce accompanied by either brown rice or pasta and a mixed salad.

Linguine with Feta and Sun dried Tomatoes
Serves 4
Fresh wholegrain linguine 4 – 6 Sun dried tomatoes, finely chopped
Cherry tomatoes, approx 4 per serving
Feta or mozzarella cheese, diced Fresh basil leaves, finely chopped
4 tablespoons extra virgin olive oil Large clove garlic, minced
Chili flakes (optional) Salt & Black pepper
1 Bay leaf Parmesan cheese, grated or in shavings
Cook the linguine in plenty of water with salt and the bay leaf, strain and leave covered to one side.
Advertised
In a pan, heat the olive oil to medium heat and add garlic, chopped sun dried tomatoes and chili flakes, fry for 2 mins taking care not to burn the garlic or sun dried tomatoes. Next add the cherry tomotoes whole and cover with the oil, heat for max 1 minute. Do not allow to burst through over cooking.
Add the linguine to the pan and toss to coat well with tomatoe mixture. Add in the feta cubes and basil and give a final toss. If using mozzarella make sure to toss quickly and do not allow to melt.
Serve on warmed plates and with parmesan cheese on top and sprinkle with black pepper.
Italian Funghi Porcini Risotto
Serves 4
15g dried porcini mushrooms, soaked for 20 mins, drained and with the excess water squeezed out
1 litre chicken stock 50g butter
1 onion, very finely chopped Risotto rice for 4 people
100ml white wine 2 Tablespoons extra virgin olive oil
1 large clove garlic, minced 200g fresh mushrooms, sliced in thick slices
3 tablespoons grated parmesan cheese
25g fresh parsley, finely chopped Salt & black pepper
Heat stock to simmering point and keep simmering to one side.
Melt the butter in a pan and add the onion, cooking gently for 3-4 mins until soft. Add the rice and stir about 1 minute to coat it with the butter.
Pour in half of the wine and let bubble for a few mins to allow the alcohol to evaporate.
Add the porcini mushrooms to the rice and then start to add the hot stock a ladleful at a time, stirring the rice well between each addition until the liquid has been absorbed.
Meanwhile, heat the olive oil in a pan over medium heat, add the garlic and when aroma is released, add the sliced fresh mushrooms and cook for 2-3 mins until they give up their juices.
Pour remaining white wine onto sliced mushrooms and let bubble as before. Season with salt and pepper.
When the rice is tender and all the stock has been added, remove the rice from the heat and leave to rest 30 seconds. Stir in the mushrooms, with a knob of butter (or dribble in some more olive oil), the parmesan and parsley, season to taste and serve immediately.
Perfect Pizza Sauce
1 Tin plum tomatoes, juice drained and tomatoes finely chopped
2 cloves garlic, finely chopped Fresh oregano, finely chopped
Pinch or two of sugar Salt & black pepper
1 Tablespoon extra virgin olive oil
Advertised
Add all ingredients to a bowl, mix well, season to taste and leave in fridge for minimum half an hour to allow flavours time to combine.
(also suitable for Bruschetta)