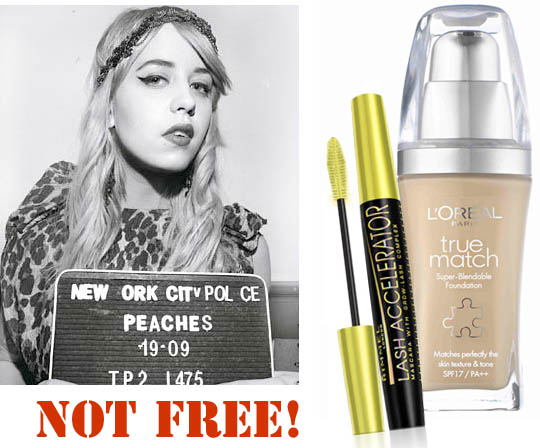 Bypassing the tills
That was her second mistake.  Her first mistake was the low cost items she stole.  Because if I were the daughter of Sur Bob Geldorf and thus an incredibly rich pampered princess and needed to rebel against something/demand attention, I would have stuck with my tried and trusted methods.
Which are either getting a new tattoo or shagging a "musician" into the end of next week.  And then possibly marrying him and quickly divorcing him.
She's got form
Unfortunately another method used quite often by Peaches is shoplifting.  She's been accused of it a few times already - normally clothes (Urban Outfitters and vintage clothing stores have both been hit) and waltzing off from photo shoots with bagfuls of designer gear - but we have to ask: has she reached a new low with this latest escapade which consisted of robbing a load of inexpensive makeup from Boots?

A relaxed day of robbing
It was all quite casual really.  A bite to eat with friends, a spot of clothes shopping in Selfridges in London and then into Boots to pick up a few bits and pieces.  She headed straight for the L'Oreal and Rimmel stands reports the Mirror and just openly popped a few items into her pockets and bags - as you do. Other shoppers couldn't believe their eyes.   A L'Oreal True match foundation was the most expensive cosmetic she picked up and the rest of her "Haul" consisted of another L'Oreal foundation and powder, eyeshadow and liner, a couple of Rimmel mascaras and powder, all worth around £70.

Advertised
What might she have stolen?
If I were a betting person I think I know exactly what she would have pocketed.  Just to speculate I'd say she definitely picked up almost all of the best stuff we've reviewed from those brands lately - very possibly along with the True Match she would have gone for
this foundation
this mascara,
this eyeshadow
this eyeliner
Oh and probably this  mascara too.
Not giving a damn
When she was stopped by the store detective upon leaving the shop she didn't seem to give a shit.  And why should she?  The store are not going to prosecute.
Spoilt little rich girl Peaches has never been prosecuted for any of her alleged crimes.  Would you or I have been marched down to the cop shop for this one?  You bet your sweet ass we would.
It's another rule for Peaches though obviously.
Peaches mugshot credit: W magazine