 I have never been a fitness fan or into sports at all for that matter. I have tried most things, to be honest; it's not for want of trying
From cross fit to joining a gym, yoga to swimming classes, kickboxing and running, people kept telling me I just needed to find the right class or sport. I even bought a trampoline in the hope it would inspire me to get fit. It hasn't - and every time I look at it I just feel guilty.
I somewhat enjoy some of the processes but after a class/session or two, I have never had a burning desire to go back. 9 times out of 10, I could be persuaded not to go if a friend calls in or any other option or reason comes about to cancel. Bottom line is, I've always been jealous of those gym goers and their endless loyalty to their sport but I've never really "got" it.
Today was the first time in my life that changed that.
I had heard about Reformer Pilates from a few friends and clients who raved about it, so it was on my list to try at some stage. Usually, with exercise, I am counting down the seconds until it's over, but with Reformer Pilates, 45 minutes went by faster than the speed of light. For the first time in my life, I can't wait to go back.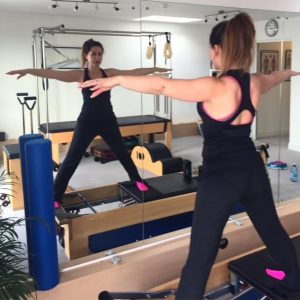 Advertised
I got up at the crack of dawn to attend a class with Reform Dublin in Blackrock, and these are the reasons why I'm going back:
I felt like my Reformer Pilates workout was tailored to me. All of their instructors are highly trained and because the studio is so small and specialised, each client is treated individually. The instructor takes everything into account, such as personal goals (for me, I want to get in shape for my wedding), as well as injury.  They have a particular focus on women's health and injury rehabilitation, something that I found very reassuring.
It's more about strength and conditioning which is exactly what I wanted; it's all about lengthening and stretching and feeling good while you're practising - and after. In fact, I hardly felt like I was exercising at all! One of the best things about this studio for me, though, was the sea breeze blowing through the studio. Bliss.
If this is something you want to try, you're in luck. Reform Dublin have a very special offer for all Beaut.ie readers. 
Advertised
25% discount on all group classes at Reform (Mat/Ballet Barre/Springchair and Pre and Post Natal) until 31 August 2017. To avail of this offer, all you need to do is select the group class you want to attend from Reform Dublin's online timetable, select the group class they wish to attend and then when the system asks for payment just enter BEAUT as the promotion code.
Have you found your secret love of exercise yet?