 In our final weekly instalment (but don't worry she will be back at monthly intervals as she continues on her fitness adventure), Simone tells us about her Bank Holiday weekend, the best advice she's received and gives the full list of changes in her measurements. 
The first milestone has been reached in my gym virgin diaries. I am closing out on my fourth week and I am doing things I never thought I could.
I read a quote about working out recently that said 'you'll see a difference after four weeks, your friends and family will see a difference after eight weeks and the rest of the world will notice it after 12'.
It struck a chord with me because I'm a very impatient person and want to see changes yesterday. But I've got to accept that I didn't put on this weight in four weeks and it won't come off in four weeks either. This programme is teaching me patience and that there's a merit in good things not coming to you too quickly or too easily. And I'm definitely learning an appreciation for gains that I've sweated and struggled to achieve. Not everything in life is, or should be, a quick fix.
To come back to the original quote, yes I am seeing differences, most noticeably in my waist but also in my chest. And not only have I started to see it, but work colleagues are also starting to comment with lovely remarks about how well I'm looking.  And when a compliment is given unprompted and with no agenda it really does put a pep in your step and spurs you on.
This series has always been about showing what you can achieve without starving yourself and denying yourself all pleasures. And boy was this week a test of that.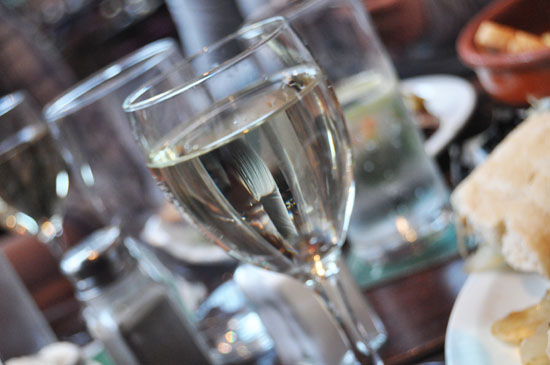 The bank holiday weekend meant three nights out for me, all of which included dinner and drinks. Now I did my best to make good choices but some naughty stuff did make their way onto my plate (and possibly into a glass or two). Owen had suggested that I up my workouts to four this week so that did help to balance things out a bit.
And I was delighted to see that I lost another 2lbs as well as 2% body fat - proof positive that you can indulge once in while without letting it throw you off your stride. Which brings me on to another firm (like my thighs will be) favourite piece of advice - 'don't let a little slip become a slide'. If you have a bad day, don't beat yourself up, just draw a line under that day, and start afresh the next.
And Owen's sage advice is don't try and compensate for it the next day, give yourself a clean slate.  If you try and 'make up for it' it'll make that day too difficult and potentially lead to another blow out.
So at the four week mark, here's the summary of what I've lost in total:
I'll be back again at the eight, 12 and 16 week marks to share my measurements progress with you, and week 16 shall be the big finale! And I'll be back in two weeks to let you know how my training is going.
In the meantime, here is one of my favourite receipts from Hemsley & Hemsley. Leave the pasta on the shelf and reach for the courgette. Stay with me, it's delicious!
What's the best piece of fitness/healthy eating advice that you've received? Are you following Simone's fit footsteps? And do you have any recipes that you'd like to share? Tell us in the comments!
Courgetti Bolognese
Serves 4 people
Advertised
Ingredients
400g minced beef
2 tablespoons butter
2 large onions, diced
4 garlic cloves, crushed
1 tablespoon of tomato puree
16 large tomatoes, roughly chopped, or 2 cans of chopped tomatoes or 800g of Passata
2 bay leaves
250ml beef/chicken stock or water
1 large glass of red wine
2 large carrots, grated
Sea salt and black pepper, to taste
1 teaspoon of mixed spice or nutmeg
4 large courgettes
Instructions
Heat 2 tablespoons of butter  and fry the onions on a low heat until softened, not browned (about 10mins), then add the garlic, bay and any other herbs that you choose.
Increase the heat and add the minced meat to the pan and brown, using a wooden spatula to break it up as you go.
Pour in the red wine to deglaze the pan, then add the tomatoes, puree and broth/water.
Bring to the boil, cover with a lid and then reduce to a gentle simmer for 2 hours until rich and thickened, stirring occasionally. Even better after 3 or 4 hours.
Ten minutes before the end of cooking, add the grated carrots and season with sea salt and a good grind of pepper.
Meanwhile, use a spiralizer/julienne peeler on the courgette. Or use a vegetable peeler and then a knife to slice the courgette strips into spaghetti type strands.
Wilt the courgetti using a little butter and water in a pan.
Advertised
Serve the ragu on top of a pile of courgette spaghetti with fresh grated parmesan and a drizzle of extra virgin olive oil to serve.