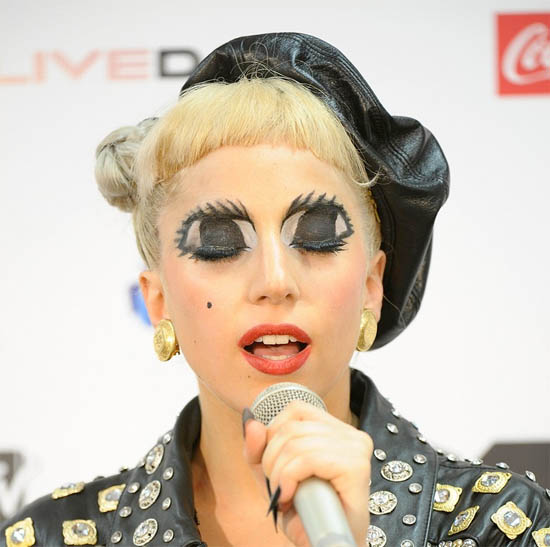 While we were all going bonkers for Beyonce's historic Glastonbury headlining set, music fans on the other side of the world were being treated to a rather different look. Far removed from the Beyonce raunch of big knickers and perfect bottom,  GaGa showcased another version of her cartoon eyes.
She showed us a similar effect before in her Hello Kitty photoshoot which was a bit creepy and horrible:
Then the  Bad Romance video showcased an arrangement of contact lenses and four sets of eyelashes, but this look for the  MTV Awards in Japan was simple by comparison.  She had the effect drawn on the lids of her eyes and kept her eyes closed.
It meant she had to keep her eyes shut for the press conference - which was quite frankly ridiculous.  But I suppose  once you've worn a meat dress to an awards ceremony, pretended to have a penis and grown unicorn horns in your cheeks, anything else is small potatoes.
Advertised
I can actually see this one taking off.  Its easy to achieve (all you'll need is some heavy duty black and white waterproof makeup) and the shock value of the blink would make it extremely appealing to any Little Monsters out there.  Just do like GaGa and keep a pair of shades handy for when you need to do anything (like er walk, make a cup of tea etc) and when you're stationary whip the shades off and treat everyone to the full effect.
What do you think?
Image via justjared