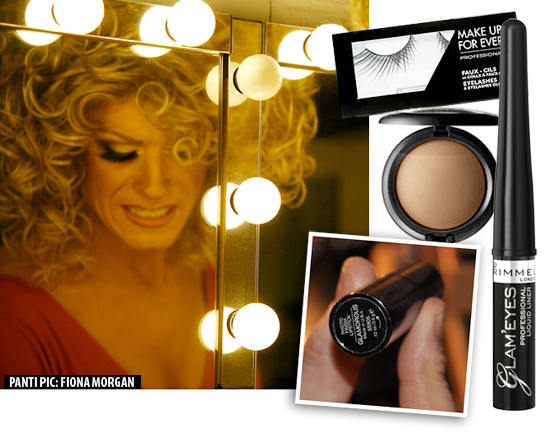 "A dewy base!," exclaims Panti in mock-scandalized tones. "Never for drag! Oh no, it's industrial-strength for me," she declares. I'm huddled in the bowels of Panti Bar with its famous namesake, watching as she finishes her prep for Thursday night's regular - and legendary - Panti Show action. She's so on the ball she managed to parody Crystal Swing about four seconds after it started trending on Twitter.
While the dressing room could be more glam - we're sharing space with bottles of cleaning products - it's not actually all that dissimilar to the bedrooms of quite a few single gals of my acquaintance - a tangle of underwear, shoes, tights and sundry cosmetic spills are also vying for space with the aforementioned chemicals, and Panti's very cute dog Penny.
Though in fairness, most of the girls I know don't have umpteen pairs of size 11 spangled stilettos (a couple take my fancy) and tumbling wigs in their dens of iniquity.
Back to the cosmetics: the reason I'm here.  Ahead of the Alternative Miss Ireland pageant which takes place this month, and of which she's the hostess, I thought it would be fun to do a sort of cosmetic bag reveal with Ireland's top drag queen. I don't quite get what I come for, but I do get an eye-opener into what a drag artist likes, uses and looks like when made-up, at close quarters. See, Panti doesn't seem to have a makeup bag, I don't think. She has a makeup table and she has a makeup chest, bursting to overflowing with what mostly seem to be Make Up For Ever products. "Jesus," I say, "I hope you're getting a discount."
So, what other brands does she like? A Rimmel Glam'Eyes liquid liner is brandished. "I love this, the brush on it is great," she says. I grab a gander at her eyes. Yes, she's depressingly good at this stuff, her line is true and super-duper even. Where did she learn how to do it, is what I want to know. Did you just pick it up over the years, I ask? She nods. "I went to art college, and to me this is like painting."
Advertised
Is Panti an old master, then? I should say so: over the layers of Mac Full Coverage Foundation - "they recently tried to discontinue this and there was such a hooha in the drag community" - are painted on the most spectacular pair of eyes I've seen since, ohh, ever. Super-sculpted, she's managed to shade in a lid where none exists - "look," she points, "my lid ends right above my liner." I peer - so it does! But by the Very Power Of Products, she's given herself a spectacular-looking crease altogether, to match the impressive-looking contouring going on elsewhere. Bravo.
Beauty can't-live-withouts include false lashes, Make Up For Ever's 120's being firm faves. "I'm naked without my lashes," she declares. A white eye-pencil for lining the lower waterline is another must-have, but surprisingly, mascara is out: "I keep the same one for ages," she says, waving a sorry-looking Bourjois offering at me. Eyeshadows are typically pearl and frost-finishes and come courtesy of Mac and Make Up For Ever, and Panti's not fond of nude lips, going for berry shades - tonight's is a Smashbox offering - that'll take her across the multiple outfit and wig changes her shows typically demand.
I've spotted something interesting in a drawer: a bumper pack of Prit Stiks. "What on earth do you use those for?" I enquire. "My brows," she laughs. By now she's putting the finishing touches to tonight's look and there's only time for one more question: all I need to know is whether Panti has a favourite fragrance. "Oh yeah," she says, brandishing an industrial-sized can of Elnett at me. "I use this and everyone tells me how nice I smell. It's Panti's signature scent!"
Alternative Miss Ireland 2010 takes place at the Olympia Theatre on March 14th and raises money for Irish HIV/AIDS organisations. Tickets cost from €34.50 and are available from Ticketmaster.