 What with monochrome being such a huge trend for spring/summer 2013, there was no telling just how boringly our Hollywood starlets were going to dress for last night's Academy Awards, and in a way I was both relieved and disappointed. But enough about me - let's talk about them, shall we?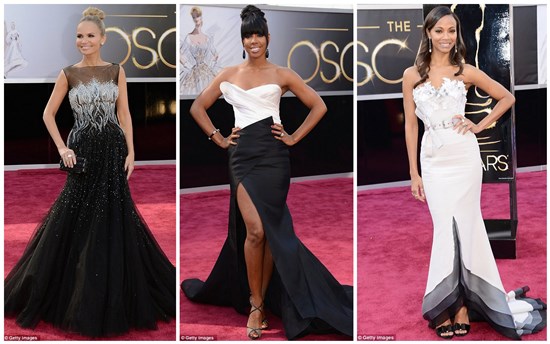 The good news is, monochrome was not everywhere. The bad news is, um, Kelly Rowland in Donna Karan Atelier. Kristen Chenoweth (of Wicked fame) looked pretty amazing in Tony Ward, while Zoe Saldana is pretty close to being my best-dressed, in Alexis Mabille Couture. A little vaginal in the front, but I ain't mad at it.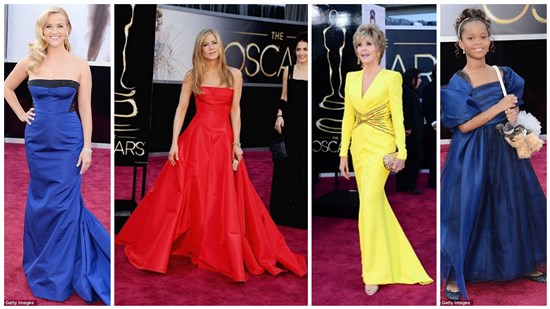 After all of my monochrome fears, it was nice to see some bold colour, even if Jennifer Aniston's red Valentino gown left me seriously cold (it was at least one size to big for her, and we've definitely seen this on her 1,000 times). Reese Witherspoon's Louis Vuitton was gorgeous on her and I hope she got to keep it - although I do fear for her walking abilities - while Jane Fonda is vying with Zoe Saldana for top spot, in this seriously OTT Versace. LOVE. And Quvenzhané Wallis? Adorable.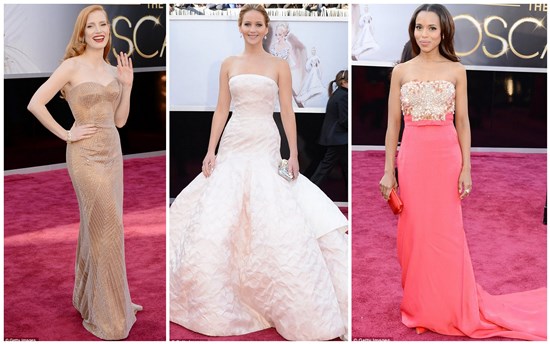 Advertised
Shades of, um, skin her from Jessica Chastain, Jennifer Lawrence and Kerry Washington. In order? Love, hate, quite like (but not love). Chastain's Armani Privé gown was so old Hollywood and so perfect with those 1950s waves and that perfect red lip. Lawrence, a front-runner, chose to go seriously Princess Barbie with this Dior gown, that actually Ididn't hate until I got to the hip flare. Yeesh. And Kerry Washington? Nice (Miu Miu). Not amazing. But nice.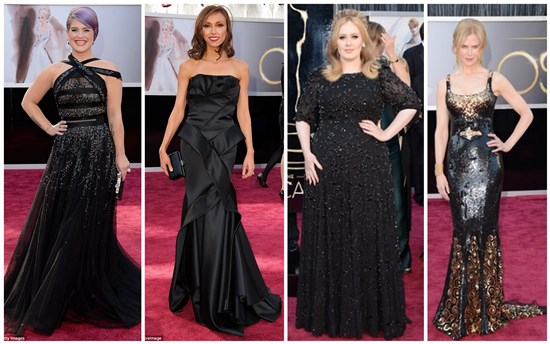 Back to black. Kelly Osbourne was one of the first on the red carpet and I was caught in a good mood, so I thought: lovely! Same with Giuliana, and actually I loved that she went less sexy than usual, and lost the hair extensions. But Adele? Honey, no. A serious fail from Jenny Packham here, and just so dull. I loved her in Valentino at the Grammys (although most people didn't), and I was hoping she wouldn't go back to her fave black muu muus. And Nicole? I miss her old face. That's all I can think.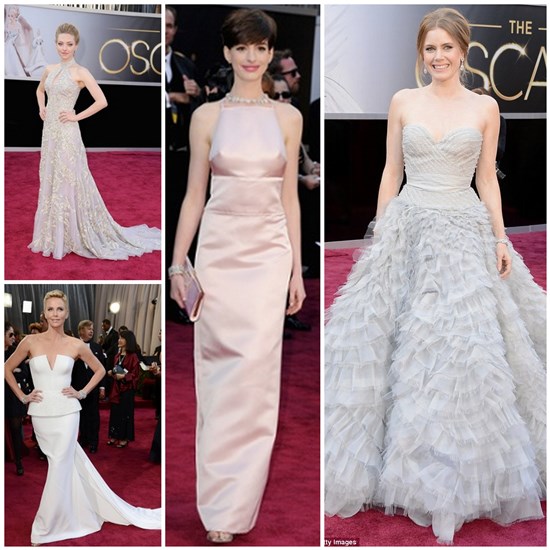 And fiiiinally . . . nude. Nude, nude, nude, nude zzzzzzzzzzz. I love Charlize's hair, for example, but her white Dior left me cold. Amanda Seyfried's dress was actually lilac on TV, and gorgeous. In photographs it bores me. (And what is the use of a good dress if it photographs badly? This isn't the Facebook generation for nothin'.) Anne Hathaway, I had high hopes for you. At the Golden Globes it seemed like you'd got to grips with your hair, but now? SOCCER MOM. Also, did anyone else get her sad-sack gushing at Seacrest on the red carpet? SNOREVILLE. And Amy Adams? Again, just no. Too much. Too many. Too much. REVERSE. (You should have seen the entourage fixing that enormous balloon as she shuffled around.)
Advertised
So tell me: who did I miss? Who was your winner? Who was your loser? Did you stay up to watch the whole thing or are you just catching up this morning?