 It felt like you couldn't turn around this weekend but you were bumping into a celebrity, at the IFTAs, the BAFTAs or (my personal ghetto-fabulous favourite) the Grammys - gosh but they were everywhere! And if Amy Huberman wasn't giving birth to baby Sadie mere seconds after wowing us showing up to the IFTAs in a little black number, then Anne Hathaway was finally growing into her haircut and splashing through puddles in London - not to mention Helen Mirren's pink rinse.
Being too late for the IFTAs, which have been well covered elsewhere, we decided to focus our critical attentions on the BAFTAs (besides which, it's easier to slag the foreigners, isn't it?) - so without further ado . . .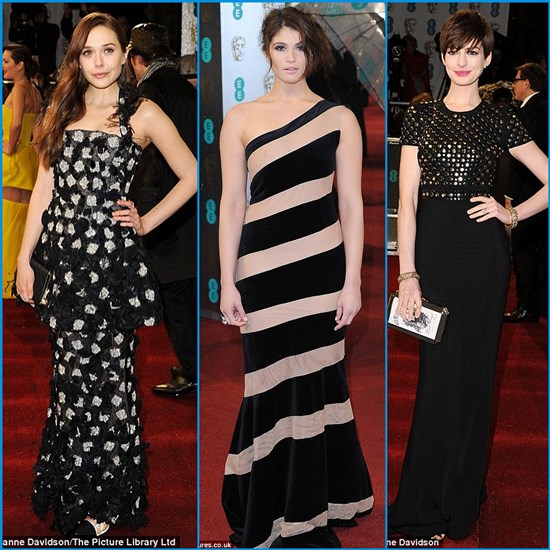 As on catwalks, so too in life, and at the BAFTAs, the monochrome trend that is big for this season was really obvious. Personally, I was aching for a bit of colour, but I did love Elizabeth Olsen's floral Chanel couture dress and Hathaway's Burberry was a big hit with the fashion media - not to mention the proletariat! Gemma Arterton, bless her cotton socks, took a big risk with this Celia Kritharioti (try saying that five times, fast) dress. Do you reckon it's a risk that paid off? I'm a big concerned about the optical illusion aspect that seems to be giving her a serious case of swimmer's shoulders!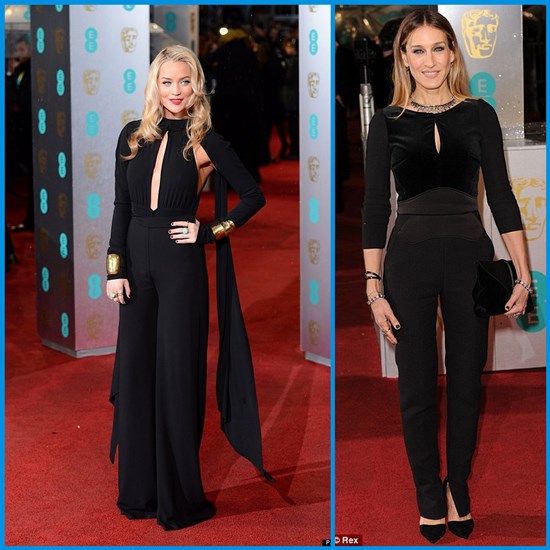 The big news for the Irish is that our own Laura Whitmore out-jumpsuited-SJP in her amazing Alexandre Vauthier jumpsuit, while SJP wore Elie Saab. Whitmore is definitely going down a Studio 54 road, while SJP is staying more sombre with hers, but Whitmore's Lana del Rey waves really seal the deal for me, not to mention that great arm candy!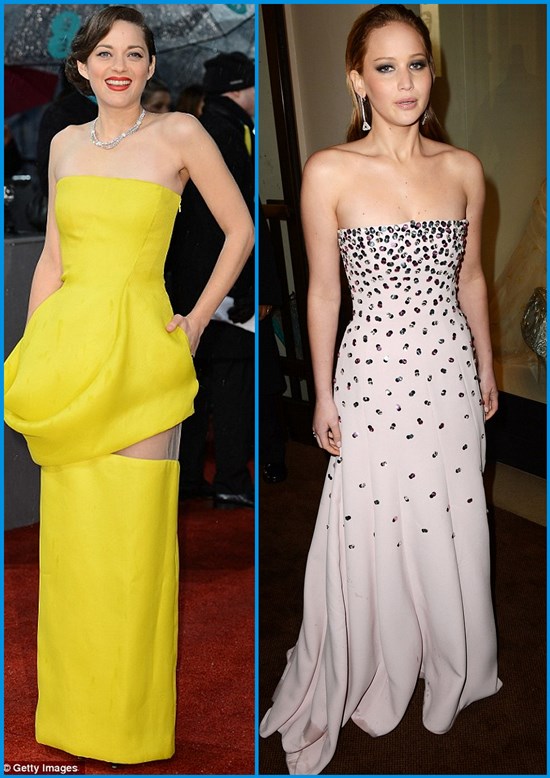 Marion Cotillard and Jennifer Lawrence are both faces of Dior, so they were of course wearing designs by the couture house at the BAFTAs. I think Lawrence drew the short straw this time around; it's not secret that she's recovering from pneumonia, so why anyone thought it would be a good idea to put her in this washed-out number is beyond me! Cotillard stuns in yellow, although that sheer panel is another Dior-shaped mystery in my life. WHY?!
Advertised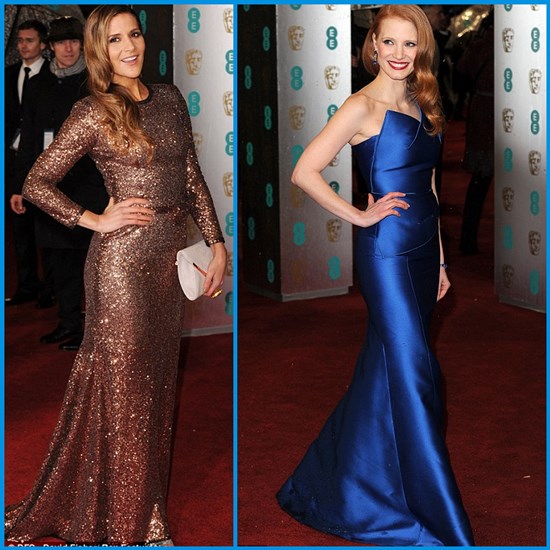 You'd be a while looking for some colour at the BAFTAs, but our very own Amanda Byram took a few steps en route to the rainbow is this bronze number, which I think is stunning, if a little "done", shape-wise. Jessica Chastain's royal blue Roland Mouret gown drew more than a few gasps on the red carpet last night. Finally, some colour! It looks especially striking against Chastain's flaming locks (I got that "flaming locks" bit from the ever-verbose Daily Mail, I'll admit it).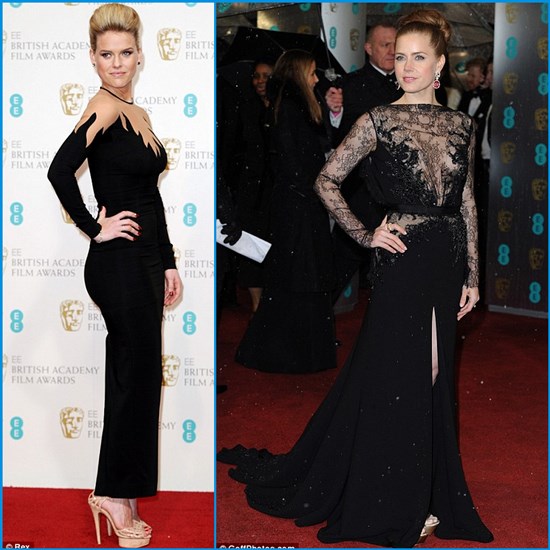 Aaaaaand it's back to black with Alice Eve and Amy Adams in Morticia Addams-esque frocks. I don't hate either of these, but what I do take issue with are those horrendous platform heels peeking out from beneath both ladies' hems. Yick! Get rid of them, please girls!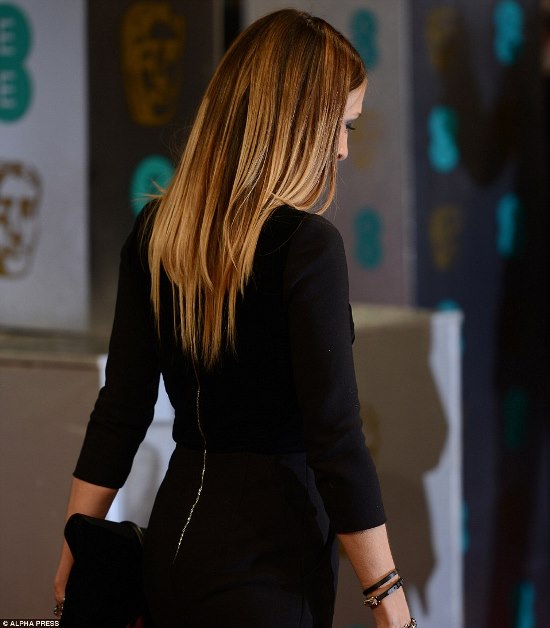 For me, this photograph was the most shocking - it's SJP and . . . are those hair extensions?! I'm currently praying to the gods of Sex and the City that it just ain't so.
So whaddya think? Anyone at the BAFTAs stand out for you for the right (or wrong) reasons? Disagree with my picks? Have at it in the comments!
Advertised
pics via the Daily Mail