 This week, our resident fitness guru Fiona, has moved out of the gym and into the kitchen!
This weekend I spent some time in the kitchen baking and making some of my favourite, easy to make treats. I love to make healthy treats at the weekend and these are my go to recipes, they are delicious and last all week.  Here are some of my favourites.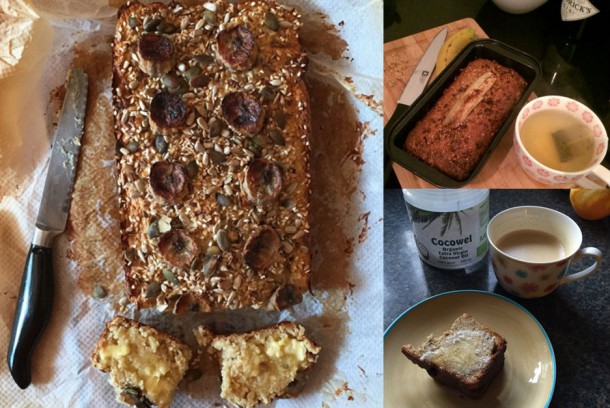 Bread often comes under fire, especially when we're trying to lose weight, many of my clients and friends find it so hard to cut it out. Bread is so convenient; it's an easy option for breakfast, lunch or snacks. So when it comes to giving it up, it can be difficult for people who rely on it so often during the week.   My recipe is for oat bread; wheat free, sugar free, simple to make and tastes delicious, what's not to like? Go on give it a go! If you decide to make a sweeter version as a treat add in a few bananas make sure they are very ripe, I wait till they are nice and brown, it makes for some seriously yum banana bread.
Method: Put one large pot of natural yogurt into a bowl (500g pot), add 2tsp of baking powder and mix together with one egg. Wash out the yogurt tub and add two yogurt tubs of gluten free oats or just porridge oats to the mix. Optional: Add 1-2 quite ripe mashed bananas for a sweeter bread. When everything is mixed together, pour into a lined bread tin, I like to line the bottom of the tin first with seeds. Pop it into a preheated oven on 175 for 45 minutes. Enjoy with real butter or nut butter!
Advertised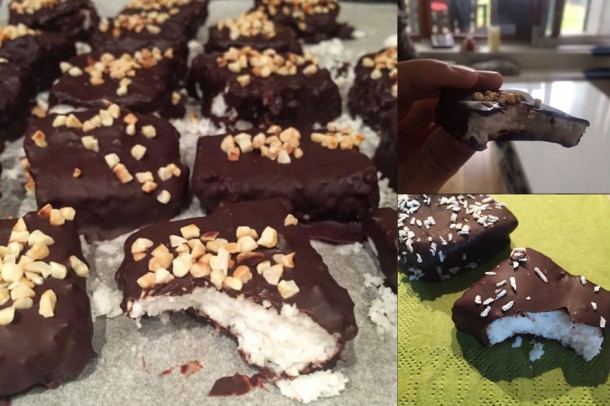 These are one of my all-time favourites and always go down a treat with my friends and clients. Coconut is naturally sweet, and when combined with dark chocolate these are pure luxury. The best bit is they are really simple to make and the ingredients are easy to source and inexpensive.
Method: In a blender, mix 2 cups of desiccated coconut, 2 tbsp of melted coconut oil, 2 tbsp melted coconut cream (this is a solid product, usually found in the Indian section in the supermarket. The one I buy is from health shops, it's called Biona Coconut Bliss), a squeeze of honey and a splash of coconut milk/ cream. Optional: add 1 tsp vanilla extract or 2 tsp peppermint essence- this is my favourite option! Blend everything together for a few minutes. Press the mixture into a shallow, lined tin. My tin is about 1.5 inches deep and I fill it to about an inch or under. Freeze the mixture for an hour or so. Remove from the freezer and cut into squares. Dip each square into melted dark chocolate (I use 70% or 85%) and pop onto a lined baking tray. At this stage you can sprinkle them with coconut or nuts, I like toasted chopped almonds. Cool in the fridge or freezer for about 10 minutes then they are ready for eating. These can be stored in the fridge for up to 2 weeks, but I bet they won't last that long!
I could give you a hundred more recipes to choose from, I am constantly trying out new ideas and Instagramming the bejaysus out of them! Give these a go and let me know what you think. If you want ideas that include specific ingredients, let me know and I'll work up recipes!
Until next week,
Fiona
Advertised
Metabolic Fitness Trainer