 Recently we met the lovely Catherine and Suzanne from Boutique Bake and they have been sharing their delicious baking recipes with us in their Sweet Saturday series (you can check out more of their recipes here).
And today they are going to spoil us with their Easter Vanilla Cupcakes.
Where there's a whisk, there's a way.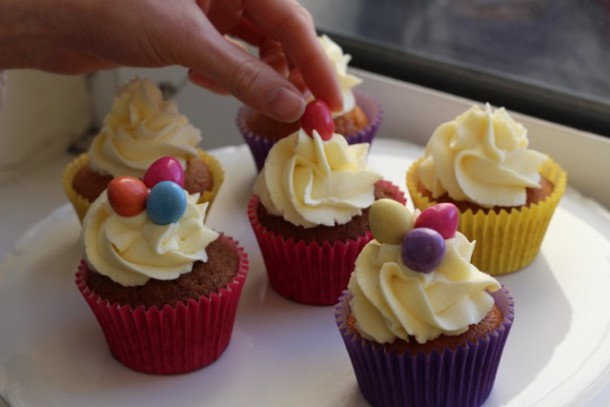 This is a great, classic recipe for vanilla cupcakes and a delicious vanilla butter cream, yum!
It's a recipe that can be used time and time again, for lots of different occasions. For Easter, we have simply added some cute mini eggs on top. But you can change it up depending on the season, these also make a great birthday cake if you pop them on a cake stand with some candles, they make a lovely addition to any party!
We have included our 'go to' recipe for 12 plain vanilla cupcakes below, but this recipe can be easily flavoured to make a chocolate version by simply adding 50g cocoa powder. And if you're a lemon lover, you can add in the zest of one lemon for a really quick lemon cupcake.
Classic Vanilla Cupcakes
200g plain flour
280g caster sugar
3 tsp baking powder
80g unsalted butter
250ml whole milk
2 eggs
¼tsp vanilla extract
1 quantity vanilla frosting (below)
A 12-hole cupcake tray, lined with paper cases (preferably brightly coloured!)
Vanilla Buttercream Icing: 
(Enough icing to generously ice the cupcakes, you can freeze any leftover for your next bake!)
210g butter
420g icing sugar
2-3 tbsp of milk
¼tsp vanilla extract
Icing bag and icing nozzle
Advertised
Method:
Heat your oven to 180C/160C fan/gas 4 and line a 12-hole muffin tin with paper cases. 
Put the flour, sugar, baking powder, salt and butter in a freestanding electric mixer with a paddle attachment (or use a handheld electric whisk) and beat on slow speed until you get a sandy consistency and everything is combined. Gradually pour in half the milk and beat until the milk is just incorporated.
Whisk the egg, vanilla and remaining milk together in a separate bowl for a few seconds, then pour into the flour mixture and continue beating until just incorporated (scrape any unmixed ingredients from the side of the bowl with a rubber spatula). Continue mixing for a couple more minutes until the mixture is nice and smooth.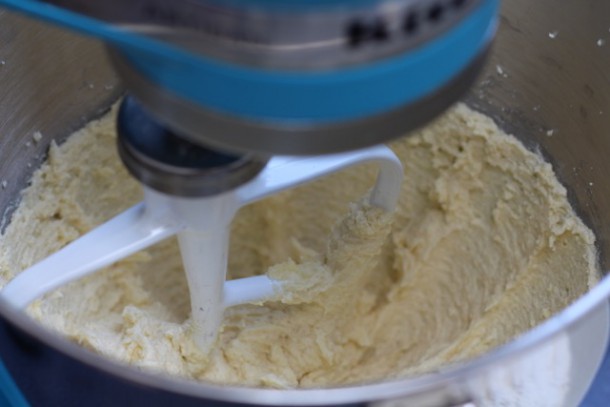 Spoon the mixture into the paper cases until two-thirds full and bake in your preheated oven for 18-20 minutes, or until lightly golden and the sponge bounces back when touched.
Allow them to cool before icing.
To make the icing, beat the butter with an electric mixer in a large bowl until soft. Add half of the icing sugar and beat until smooth.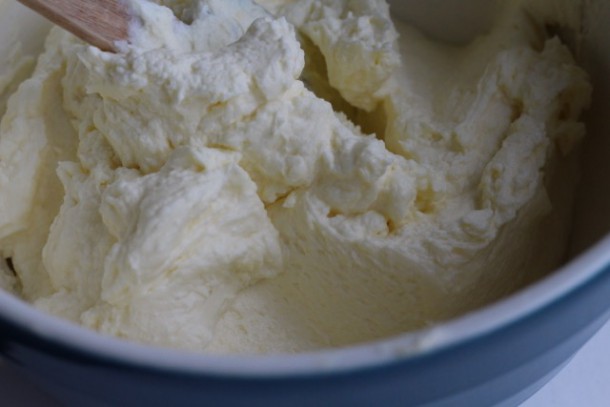 Add the remaining icing sugar and 2 tablespoons of the milk and beat the mixture until creamy and smooth. Beat in more milk, if necessary, to loosen the mixture.
Now, time to pipe your icing on top! Use an icing nozzle suitable for decorating cakes/cupcakes (we recommend a 'Jem 1D' or 'Wilton 1M' tip which you can get in most cake decorating shops or order online) and place inside an icing bag.
Next fill your bag with the buttercream icing and starting from the edge of your cupcake, make anti clockwise swirls into the centre.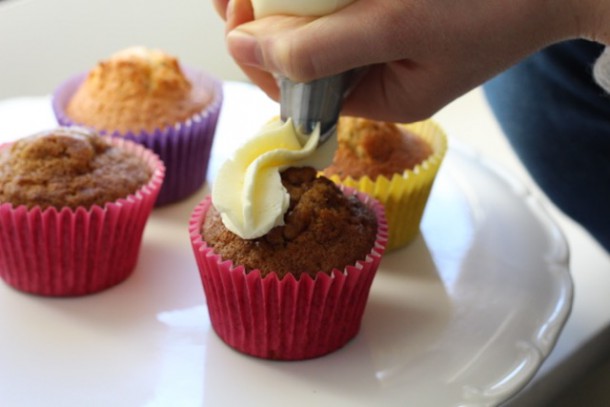 If you don't have the time or patience for this, don't worry! Simply place some icing on the cupcake and you can 'dirty ice' it (spread icing so it completely covers your cupcake) with a knife to give it that rustic look!
Decorate the icing with some mini chocolate eggs to give them a proper Easter makeover!
Don't forget to tweet us pictures of your Easter cupcake creations @boutique_bake or post them on Instagram using the hashtag #bakemyday – then we can find your beautiful pictures easily!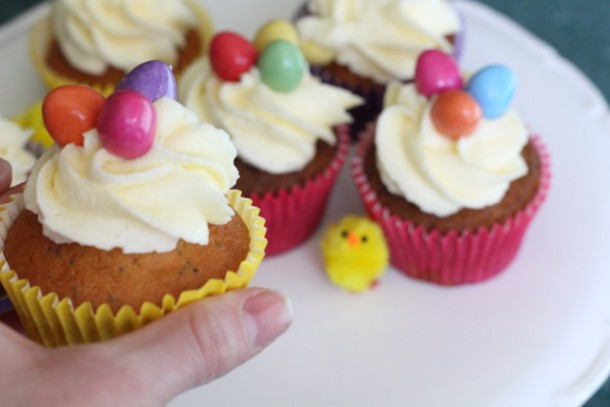 If you guys have any baking questions, we'll be back on Monday to answer them so make sure to comment below!
Advertised
 If you'd like to read more from Boutique Bake, why not check out their website www.boutiquebake.ie? And if you are a social media fan, you can like them on Facebook, find them on the twitter machine (or Instagram) by searching @boutique_bake or even on Pinterest.