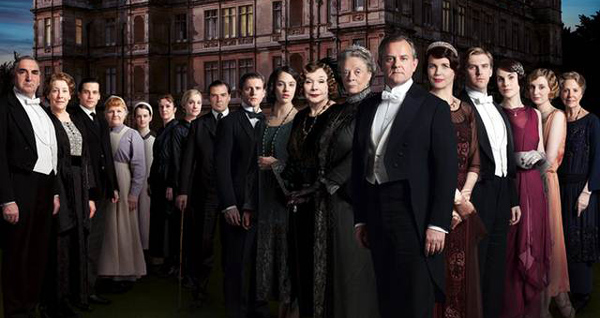 I was a bit delayed in jumping on the Downton Abbey bandwagon when it began, but by the time the Christmas special rolled around last year, I had inhaled the first and second series boxsets. At which point I was shouting at Matthew and Mary to get the shift already and wishing I had a pair of Lady Sybil's scandalous Princess Jasmine pants. Actually, I want the whole outfit. That headband was deadly.
Over the last week, ITV have been teasing us with trailers for the third series, giving us a look at Maggie Smith and Shirley MacLaine facing off in what's shaping up to become a 1920s battle royale between the indomitable Dowager Countess and Lady Cora's mother Martha Levinson.
One of the trailers on TV at the moment shows Mr. Bates being visited in prison by Anna, we also see Matthew and Mary arguing and saying stuff like "but if we could disagree over something as fundamental as this then shouldn't we be brave and back away now?" (Stop that! You JUST got together!) as well as the return of handsome Branson. Yay!
That particular trailer isn't online at the moment, but the ones that are give us a taste of the delightful rivalry between Cousin Violet and Martha that we have to look forward to.
Advertised
I can't wait to see what's going to happen in series three. I know the last one wasn't really as good as the first, but I still cheered when Matthew made his totally ridiculous recovery and hopped up out of his wheelchair.
So who else is excited?