 Have you got your summer holiday booked? If you do then there's no time like right now to get your swimwear sorted. I tend to go on hols in September and I always leave it too late to get the best bikinis. I run into Penneys at the end of August and there is nothing left that I like.
So I have a new plan. Get them now, as the high summer collections hit the shop floors and there are plenty of sizes to choose from too (another pet hate of mine when swimwear shopping). So what have we found for you? Well, quite a bit actually and I've got some tips when you are deciding what shape and cut suits your body. First up....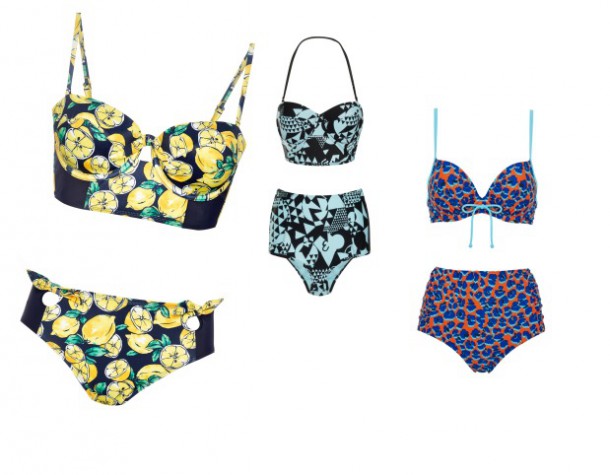 Above: Fruit pattern top, €9 and matching bottoms, €6, both from Penneys; Turquoise two piece, €34.71, South Beach Official; Top, €17 and matching bottoms, €11, both from Marks & Spencer 
Exactly the same premise as the long line bra, the long line bikini has more coverage and support. The long line comes down onto your rib cage, so for any ladies with a larger bust size, this one is a good choice. I am a 32 DD and I find this style very comfortable. I don't wobble or move around and when I'm going down slides at the water park, the top stays put (this happened me in Disneyland where I came down a slide and I lost my bikini top. Not. Good.)
Most bikinis can now be bought separately so if you are a different size on top than on the bottom you can mix and match your size. I also like a high waisted pant to my bikini. My area of dislike is my tummy and I feel with a higher waist I am supported and I look better. Plus, it's trés 1950s which I adore. M&S, Penneys and a great brand called South Beach Official have some stylish long line bikinis for you to take a look at.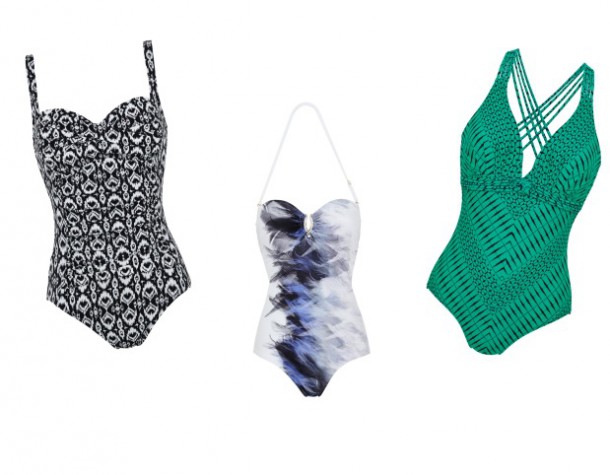 Advertised
Above: Monochrome swimsuit, €44; Printed halter neck, €54; Green geometric print suit, online soon, all from Marks & Spencer 
The swimsuit has made a very stylish return to the beaches of the world. Again, I love a full suit option for pool lounging and more practically; they tend to have support in the cup and around the tummy. What is missing though in the high street collections are swimsuits with under-wiring. The price tends to rise dramatically when you add this in as a requirement.
But if you don't mind the wiring missing, then opt for a full cup to mitigate against the downside of swimsuit fabric, which is not staying put. Full straps are also important to provide support to the bust, and also watch out for some of the premium brands that have control fabric built in for a sliming effect. The monochrome suit above has M&S' Secret Slimming fabric built in that is much lighter than regular shapewear but with all the control effects. All the above pieces are from M&S.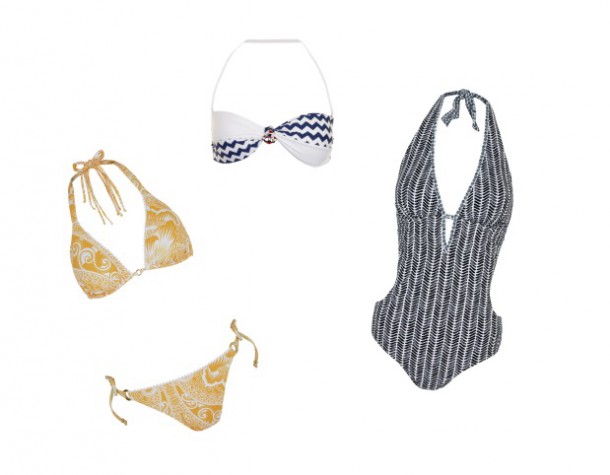 Above: Yellow Print two piece, €14, Next; Navy and blue halter top, €22.21, South Beach Official; Swimsuit, €28, Next 
For the smaller bust, creating shape is always the most wanted aspect of a bra or bikini. Halter necks give automatic lift and for bikinis the are a good shape-creator. I quite like a wide halter (see style the middle for what that looks like) as it lifts the bust more naturally without pushing them inwards too much. This style is also available in a one-piece across many high street stores, but we love the one above from Next!  
Have you a favourite swimwear style that suits your shape? Have you any brands you love? 
Advertised