 Aw the soft shades of pastels. Dusky pinks, mint greens...actually peppermint, if you please. They are summery and lovely and make you want to skip down the road with a basket of flowers trah-lah-lah-ing all the way.
But a new pastel has come out to play this year: the sweet lavender and lot's of its cousins including violet and lilac. They are a merry bunch and they'd like you to be their new pal. The only problem is they aren't the easiest shades to wear and they can wash you out, just a tad. But we must, we must try the trend.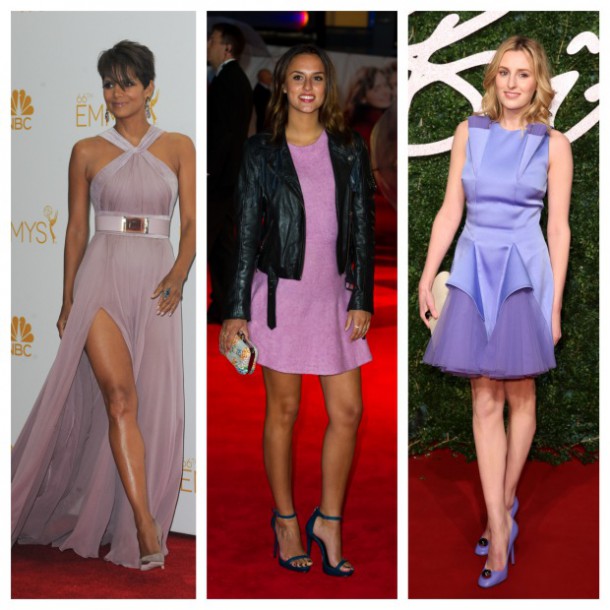 The red carpet has gone ga-ga for these shades over the last season or two with Halle Berry, Made in Chelsea's Lucy Watson and Laura Carmichael, aka Lady Edith in Downton Abbey, all showing the love for lilacs and lavenders.
It's one of those colours, I should add, that can photograph differently to what we see, as it can be quite an iridescent colour depending on the fabric. So if you are choosing it for an occasion, watch out for organza and tulle which can look a little pink. So what are our ways to wear? Well, we put our heads together at Beaut HQ this week and we discovered a fabulous lace skirt from Simply Be that's a perfect solution!
Texture is an easy styling tool to work a colour into your look; lace and crochet are subtle and summery and in this light hue of lilac it has a bit more character than a plain pencil skirt. So let's see how we can work this trend.
Advertised
This is a perfect piece to create several different looks for occasions (remember that dilemma we had with more than five weddings this year?) by adding different tops, jackets and accessories to change it up. Neutral tones work especially well with this colour; just watch the detail. As the skirt has features in it's fabric, keep everything else nice and minimal to avoid any clashing. 
The bit of bling from the bracelet will pick out the colour of the skirt and add a few other light tones too. If you want to go for a shorter style jacket, then take a look at the selection in River Island at the moment, they have quite a few! 
Ways to Wear 2: Holiday time!
This colour will look splendid in the sunshine by the sea. Add some pretty sandals, and a string or strappy top and you have something that's rather chic. I think to make this outfit more Riviera inspired, add a wide rimmed straw hat and an oversize pair of shades! 
Advertised
So what do you think of the lavender/lilac trend? Is it an easy colour to wear? Tell us, so we can copy you!